Ideal for thin LED lighting-module applications, Molex's Lite-Trap™ SMT wire-to-board connectors can now be ordered from TTI, Inc., the world's leading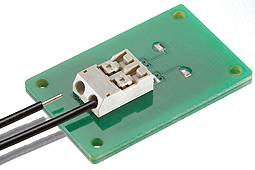 specialist distributor of passive, connector, electromechanical and discrete components. The components offer a low profile, easy wire removal, as well as low wire insertion and high wire retention forces. With a low profile height of just 4.20mm, the Lite-Trap connectors offer the lowest profile available of similar wire-removable types. Other lower-profile versions are available in the market, but these are permanent one-time connection types that do not allow wire removal.
The termination method of the Lite-Trap connector system is similar to Molex's Wire-Trap connectors, and also to certain competitive "Poke-In" style versions. A stripped wire is inserted into the connector and pushes open a gate-style terminal that "traps" the wire. To unmate, a button-style lever on the housing top is pushed down to allow the wire to be disengaged.
TTI, Inc.
www.ttieurope.com