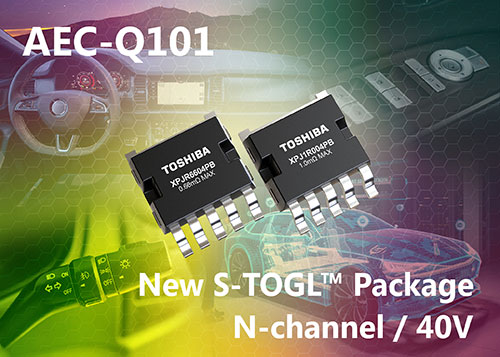 Toshiba Electronics Europe GmbH ("Toshiba") has launched a pair of automotive grade 40V N-channel power MOSFETs based upon their latest U-MOS IX-H process. The new devices use a new S-TOGLTM (Small Transistor Outline Gull-wing Leads) package that offers a number of advantages in automotive applications.
Automotive safety-critical applications such as steering, braking and autonomous driving systems generally require more devices than other systems to meet redundancy requirements. Here, a power MOSFET with high current density is required due to the size constraints within automotive equipment.
The new XPJR6604PB and XPJ1R004PB have a VDSS rating of 40V and the XPJR6604PB is rated for a continuous drain current (ID) of 200A (XPJ1R004PB = 160A). Both devices are rated for pulsed current (IDP) at 3x this value, 600A and 480A respectively. The 200A rating is higher than that achieved by Toshiba's 6.5mm × 9.5mm DPAK+ package.
The new XPJR6604PB and XPJ1R004PB automotive MOSFETs use Toshiba's innovative new S-TOGLTM package that measures just 7.0mm × 8.44mm × 2.3mm. The products are post-less and feature a multi-pin structure for the source leads that significantly decreases package resistance.
Combining the S-TOGLTM package with Toshiba's U-MOS IX-H process gives the XPJR6604PB an on-resistance (RDS(ON)) value of just 0.66mΩ (XPJ1R004PB = 1.0mΩ), representing an approx. 11% reduction when compared to Toshiba's existing TO-220SM(W) packaged TKR74F04PB. Compared to this device, the mounting area has reduced by around 55% compared while retaining the channel-to-case thermal resistance characteristics (Zth(ch-c)) – XPJR6604PB = 0.4ºC/W and XPJ1R004PB = 0.67ºC/W.
Many automotive applications are based in severely harsh environments, so the reliability of surface mount solder joints is a critical consideration. Toshiba's S-TOGLTM package uses gull-wing leads that reduce mounting stress, improving the reliability of the solder joint.
Suited to harsh temperature environments, the MOSFETs are AEC-Q101 qualified and capable of operating at channel temperatures (Tch) as high as 175ºC.
Toshiba offers matched shipments for the devices, in which the gate threshold voltage range does not exceed 0.4V for each reel. This facilitates designs with small characteristic variations for applications requiring parallel connectivity for high-current operation.
Mass production and shipments of the new devices start today.
Learn more about new MOSFETs on the Toshiba website: https://toshiba.semicon-storage.com/eu/semiconductor/product/mosfets/12v-300v-mosfets/detail.XPJ1R004PB.html