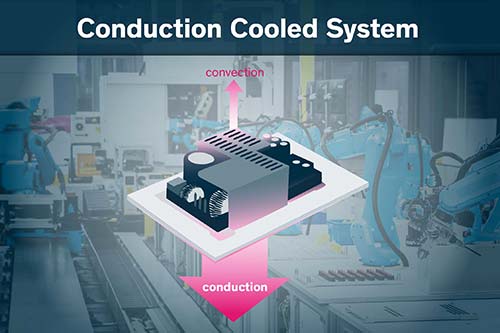 Fans have long been the go-to method for efficiently cooling electronic systems and power supplies due to their affordability and effectiveness in dissipating heat from electronic components. And although fans are a proven method, they also come with some drawbacks:
noise generation
wear and tear from dust and particles
the need for airflow-optimized designs
and the risk of failures if the fan becomes blocked or damaged
are common concerns when implementing fans into an application.
In recent years, various cooling technologies have emerged and improved, such as baseplate cooling, heat pipes, liquid cooling, and thermoelectric cooling systems. However, many passive cooling systems like heatsinks or cooling baseplates have limitations and lose much of their effectiveness when used with higher power systems.
To meet the growing customer demands for fanless designs while simultaneously eliminating the limiting factors of conduction-cooled power supplies, Traco Power has been working on a novel power supply design that aims to maximize the potential of conduction-cooled systems.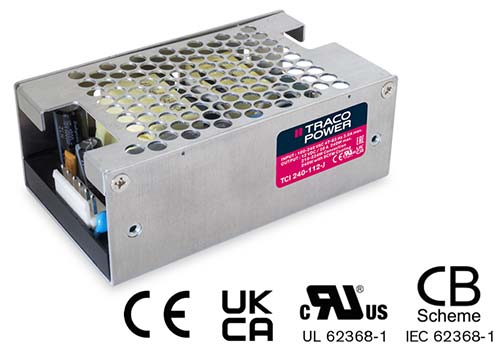 The result of our efforts is the new TCI power supply series, which utilizes an innovative hybrid case design, part encased and part encapsulated. While the metal case ensures optimal heat transfer to any baseplate or case, the special potting compound does the same for the individual components by establishing an ideal thermal connection to all critical components which is otherwise hard to achieve within conventional power supply designs.
By combining the best aspects of both case types, the TCI series has superior thermal capabilities and can reach much higher power levels without the need of a fan within the same form factor compared to traditional power supply designs. When used in a conduction cooled setup the TCI series is able to deliver 80 to 100% of the rated maximum output power, making it an ideal solution for fanless application setups.
The TCI product range includes models from 130- 500 Watts and offers standard features such as:
Wide temperature range, from -30 to 80°C
Optimized design for conduction cooled systems
Efficiency of up to 94%
Over-Voltage Category OVC III
Active PFC function
Overall, the design approach of Traco Power's TCI Series brings numerous benefits to customers, including high output power with a passive cooling system, reduced noise, improved reliability, more compact designs, and dust resistance, all while offering design flexibility and reduced maintenance efforts.
URL landing page: https://www.tracopower.com/ch/tci-campaign
Video: https://youtu.be/7eK7N7IIe54?feature=shared