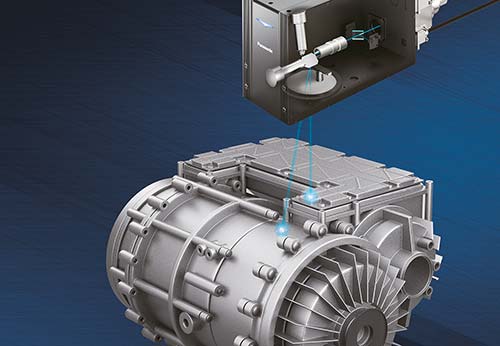 Panasonic Industry is proud to introduce the latest innovation in laser marking technology: The LP-ZV series offers high speed and precision in laser marking, making it ideal for a wide range of metal or plastic marking applications.
Whether you need to mark text, graphics, barcodes, or 2D codes, the LP-ZV series can handle it all with ease:
The 1-ns short pulse minimizes the thermal effect, while the high-frequency oscillation achieves clear marking of extremely small and fine characters down to 0.15mm. Shallow engraving results in easy-to-see white markings and code sections with sharp and precise edges.
Customers benefit from the fast and deep marking at high speed thanks to its 50W high-power output, which enables high-speed deep engraving and black marking on metal workpieces. This allows quick and accurate marks to be performed on precision metal parts such as bearings and tools.
Especially its 3D marking option and the large marking field offer customers wide marking opportunities:
The LP-ZV series is equipped with a 3D-functionality and is especially suited for marking concave or convex surfaces in an area of 50mm (±25mm).
Additionally, the large marking field of up to 330mm x 330mm means you can mark an even more extensive range of products, further enhancing productivity. Thanks to the integrated Z-axis control, the system guarantees the ability to mark complex shapes without compromising quality in the least in any position of the marking field.
The updated Laser Marker NAVI smart software supports with an even more user-friendly interface and guides to the perfect marking result: A preview of the marking on the material can be seen thanks to the data from NAVI smart software and the image captured from the built-in camera.
Connectivity is one of the most important topics in industrial automation processes: With its network unit, the LP-ZV integrates perfectly into customers' production lines via EtherNet/IP or PROFINET.
As sustainability plays an essential role at Panasonic Industry, the development of the LP-ZV also focused on increasing the energy efficiency of the system. As a result of these efforts, the LP-ZV's energy consumption and CO2 emissions have been cut in half compared to other systems.
To learn more about the new LP-ZV, please visit LP-ZV | Panasonic Industry Europe GmbH