Ready-to-use proof of concept embedded Bluetooth system solution for control systems.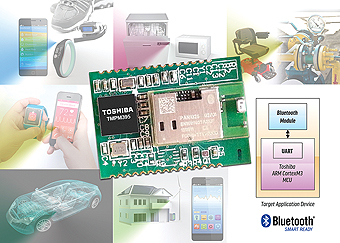 Toshiba Electronics Europe (TEE) has announced the availability of a development module-on-module (or "Module2") that combines a Bluetooth 4.0 module with a microcontroller in order to shorten the development time of ideas into products. The Module2 enables simple integration into sensor control systems, lighting and heating systems, PC peripheral systems and legacy host control systems.
The Module2 measures just 25mm by 17mm and contains lower components suited for battery driven applications. It comprises a Toshiba TMPM395FWAXBG ARM® Cortex® M3 core microcontroller along with a Panasonic PAN1026 Bluetooth 4.0 dual mode module with antenna that incorporates a Toshiba TC35661-501 Bluetooth LSI with embedded Bluetooth stack and SPP and BLE Gatt profiles.
The Bluetooth module is easily programmable using high-level Bluetooth APIs and includes 128KB NAND flash memory to store the Bluetooth host control and system application software. The device supports a range of hardware interfaces including UART, I2C, SPI and JTAG debugger I/F.
Featuring pre-certified Bluetooth hardware and firmware, the module enables easy Bluetooth SIG EPL listing.
The TMPM395FWAXBG microcontroller hosts an ARM® Cortex® M3 CPU core with an operating frequency of 20MHz, 128MB of internal ROM and 8KB of internal RAM. It features independent RTC and IO capable of separating or shutting off power supplies and realises low power operation at 1.8V.
Toshiba will supply samples, full BoM and circuit diagrams to qualifying volume customers, as well as allowing them to utilise the design.
*ARM and Cortex are registered trademarks of ARM Limited (or its subsidiaries) in the EU and/or elsewhere.
Toshiba Electronics Europe
www.toshiba-components.com