Integrated Device Technology, Inc. (IDT®) announced that Orange Silicon Valley used IDT's scalable x86 compute cluster and 20 Gbps RapidIO interconnect switches and bridges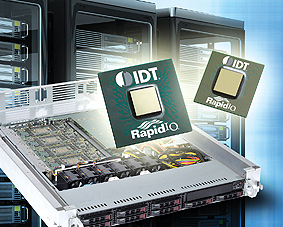 as the processing platform to execute high-performance analytics on real-world social media traffic during the FIFA World Cup finals.
For its test project, Orange Silicon Valley, a subsidiary of telecommunications company Orange, developed the platform to test the viability of real-time analysis of consumer interests and sentiments during the highly viewed World Cup matches.
The analytics were deployed on IDT's RapidIO-connected x86 cluster running on the data center compute and networking (DCCN) motherboards developed by Prodrive Technologies. IDT's RapidIO switches offer 20 Gbps of bandwidth per link, 100 ns cut-through latency, robust fault tolerance and hot-swap support, built-in reliable transmission, and non-blocking switch performance – all of which are essential to running mission-critical analytics in a wireless network with co-located servers.
The project with Orange sought to conduct deep analysis of network traffic in real time, co-located at the edge of the network at the base station. To check the viability of the plan, engineers tested their analytics on ultra-low latency, energy-efficient, computationally dense systems using real social media traffic.
Delivering 300 Gbps of aggregate interconnect bandwidth in each DCCN board and the ability to cluster up to four Intel® I7 processors, the platform is ideal for achieving low latency coupled with high compute density and low-power targets of the application. With more than 50 million switch ports shipped to date, IDT's RapidIO products are a proven solution that address the multi-processor, peer-to-peer processing needs required of high-performance analytics in wireless networks, supercomputing and data center applications. Energy-efficient system designs can take advantage of RapidIO's 300 mW per 10 Gbps of data – the lowest power-to-performance ratio compared to other interconnects.
In addition, IDT's RapidIO-to-PCIe® bridge provides connectivity to the PCIe-based network interface controller's functionality, while consuming only 2 Watts at 20 Gbps. This allows for high-density solutions within the DCCN platform using x86-based daughtercards.
Integrated Device Technology, Inc.
www.idt.com