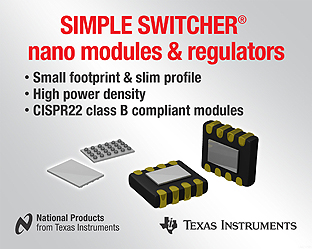 Texas Instruments Incorporated (TI) introduced four new SIMPLE SWITCHER® power management integrated circuits for space-constrained point-of-load designs in industrial, communications and automotive applications. The National 1-A
LMZ10501 and 650-mA LMZ10500 nano modules with on-chip inductor and 2-A LMR24220 and 1-A LMR24210 nano regulators feature high performance and tiny, nano packaging as small as 7.5-mm2. Used in conjunction with the WEBENCH® online design tool, the products simplify and speed the design process. For more information, samples or an evaluation board, visit www.ti.com/nano-pr
In a typical space-constrained design, TI's new nano power modules, which support an input voltage range of 2.7 V to 5.5 V, can be designed alongside the nano power regulators to step down from an intermediate voltage rail to the point of load, providing a complete power management solution in applications with space and height limitations. Watch a demonstration at www.ti.com/nano-v.
The Laguna GW2380 Network Platform is a miniature, full-featured, embedded router board with a footprint smaller than five square inches and power consumption below 3 W. Designed for space-constrained, low-power embedded applications, the GW2380 features TI's new 1-A LMZ10501 nano module along with the 3-A LMZ14203 power module announced earlier this year.
The SIMPLE SWITCHER power modules, which expand TI's portfolio of integrated power solutions, comply with the CISPR 22 Class B radiated and conducted electromagnetic interference (EMI) standard for communications applications. The new nano modules also meet the CISPR 25, Class 5 radiated noise emissions standard for automotive applications. For portable applications TI also offers the 600-mA TPS82671 in a fully integrated 6.7-mm2 MicroSiP™ package.
Key features and benefits of the SIMPLE SWITCHER nano power modules
• At 95-percent peak efficiency, TI's 1-A LMZ10501 and 650-mA LMZ10500 provide the efficiency of a synchronous switching regulator with the simplicity of a linear regulator.
• With their integrated inductor and tiny size, the modules eliminate the complex layout placement challenges typical of switching regulator designs.
• Featuring a fixed 2-MHz frequency PWM mode and low output ripple of less than 10 mV peak to peak, the modules deliver low noise in a tiny solution size.
• Watch a demonstration at www.ti.com/powerdemo-v.
Key features and benefits of the SIMPLE SWITCHER nano power regulators
• The 2-A LMR24220 and 1-A LMR24210 nano regulators operate over a 4.5 V to 42 V input voltage range and deliver an output voltage up to 24 V.
• Each features integrated synchronous MOSFETs for peak efficiency of 94.6 percent and reduced bill of materials.
• The regulators' constant on time (COT) with emulated ripple mode (ERM) architecture requires no loop compensation and provides ultra-fast transient response. The unique bump configuration eliminates the need for micro vias within the PCB, dramatically reducing cost and simplifying PCB design.
Availability, packaging and pricing
The new nano power modules and regulators are available in volume now from TI and its authorized distributors. The nano power modules are offered in an 8-pin leadless surface mount package measuring 2.5 mm by 3 mm by 1.2 mm. The suggested retail price of the LMZ10501 is $1.80 and the LMZ10500 is $1.30 in 1,000-unit quantities.
The nano power regulators are offered in a 28-pin micro SMD package measuring 2.45 mm by 3.64 mm by 0.60 mm. The suggested retail price of the LMR24220 is $2.00 and the LMR24210 is $1.50 in 1,000-unit quantities.
Find out more about TI's SIMPLE SWITCHER power portfolio:
• Order samples and evaluation modules of the new nano power modules and nano power regulators:
www.ti.com/nano-pr
• Design a power supply in minutes with WEBENCH:
www.national.com/en/webench/power_architect.html
• Ask questions and share knowledge in the Power forum in the TI E2E™ Community:
www.ti.com/powerforum
SIMPLE SWITCHER Products
www.ti.com/switcher.
WEBENCH tools from Texas Instruments
www.national.com/webench
Texas Instruments
www.ti.com