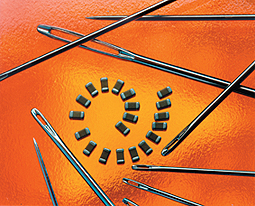 AVX Corporation, a leading manufacturer of passive components and interconnect solutions, has developed an advanced varistor designed for general ESD protection use in automotive circuits, including CMOS, bi-polar, and SiGe based systems. The AEC Q200-qualified Automotive StaticGuard Series varistor delivers low capacitance and the lowest specified leakage current available in the industry, ideal for high-speed signal lines. The varistor series provides bi-directional transient voltage protection in the on-state and excellent EMI/RFI attenuation in the off-state, while offering an ESD rating up to 15kV.
"The Automotive StaticGuard Series varistors, part of AVX's extended automotive TransGuard® Series product offering, are designed to automobile industry standards and feature excellent energy/current handling capability. The varistors deliver an advanced solution that further addresses the automobile industry's need for effective transient voltage/signal suppression coupled with consistent and reliable performance," said Jeremiah Woods, global marketing manager for circuit protection at AVX. "As a circuit protection leader, AVX is continuously expanding and improving upon our already broad offering of AEC Q200-qualified devices."
Available in miniature 0402, 0603, and 0805 case sizes, the RoHS-compliant Automotive StaticGuard Series devices are ideal for general-purpose drives, general-purpose logic, transceiver chips, and sensor applications.
AVX's Production part approval process (PPAP) is available upon request.
Typical pricing for the Series ranges from $0.04 to $0.09 in volume with a lead time of 12 weeks.
AVX Corporation
www.avx.com