The recording of temperatures plays an increasingly decisive role in engineering.
New components in all measurement, laboratory and test engineering fields are recorded with regard to the heat development and heat behavior using high-precision temperature probes and evaluation devices.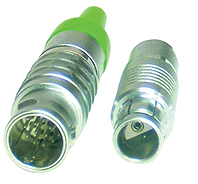 ODU immediately supplies "thermal contacts" in nickel-chromium/nickel (NiCr/Ni – model K) in order to connect probes, measuring leads and evaluation devices in an optimal and error-free manner. The contacts can be fitted in the ODU MINI-SNAP circular connector with a push-pull locking system. Advantages of the ODU connector include up to protection class IP68 possible, connects up to nine thermal elements with a single connector, more space-saving, a robust design due to a metal housing, no accidental disconnection due to a secure push-pull locking system and more than 5,000 mating cycles possible.
Conventional standard connectors for thermal elements require an installation dimension of 12.5mm × 25mm. They neither have a locking system nor can they be designed so that they are leak proof.
Advantages of the ODU connector
– Up to protection class IP 68 possible;
– Connect up to 9 thermal elements with a single connector;
– More than 90% space-saving when compared with thermal element connectors;
– Very robust design thanks to a metal housing;
– No accidental "disconnection" due to a secure push-pull locking system;
– More than 5000 mating cycles possible.
Applications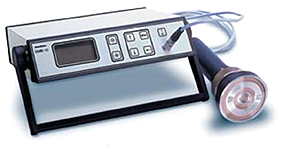 ODU MINI-SNAP for Humidity and temperature measuring.
ODU MINI-SNAP connects the electrode to the measuring unit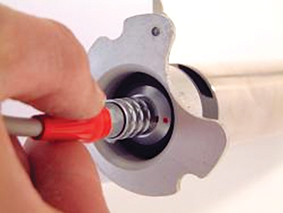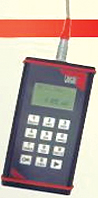 Liquid level sensor for autonomous measurement of the level and temperature of liquid media. (application field is water management)
– ODU MINI-SNAP Push-Pull connector (size 1, series K, 6 contact positions) provides the watertight interface between the sensor and readout device.
– Because of its robust construction (chemical resistance, compressive strength, resistance to wave impact, insensitivity to temperature shocks, etc.) it can also be used in oil, sludge and waste water, for example.
For further information please access the on-line catalogue:
http://www.odu.de/fileadmin/template/pdf/mini_snap/english/ MINI-SNAP.L.B.K.engl.12.09.pdf
For further details please visit the company website – online catalog. If you cannot find in the catalog solution that meets your specifications, we notify you that are possible modifications of the standard version.
Together we can find the perfect solution!
Contact:
Eng. Alina Mitea
E-mail: alina.mitea@odu-rom.ro
www.odu-rom.ro
ODU ROM Manufacturing – Sibiu, Romania
Tel: 0748144488; Fax: 0269 221006
For general information visit: www.odu.de