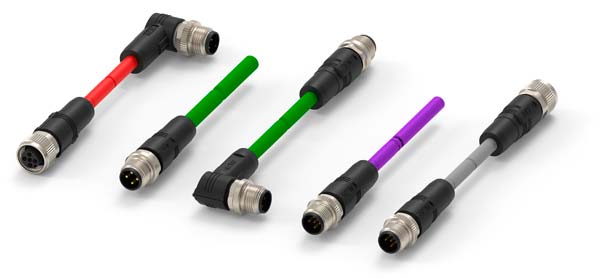 TE Connectivity (TE), a world leader in connectivity and sensors, now offers M12 data cable assemblies that support Ethernet protocols as part of its package of Industrial Ethernet and Fieldbus solutions. This makes it the one-stop shop for M8/M12 cable assemblies for industrial Ethernet communications.
"In the current era of the Industrial Internet of Things, manufacturing productivity depends on data communication and automation systems," says Sofia Sevastidou, product manager. "This whole process is based on the ability to capture, transmit and process large amounts of data, with communication between devices and across networks, as well as among functional layers in multiple manufacturing operations, utility providers and consumers. TE's M12 cable assemblies will play an important role in bringing the IIoT to life." TE has had a strong focus on the IIoT market for several years.
"Most recently, we have been enriching our already large offering in fieldbus connectivity solutions, based on Profibus, DeviceNet, CanOpen and CC-link, with industrial ethernet protocols such as Profinet, EtherCAT, Ethernet/IP & SERCOS-III," Sevastidou says.
Ethernet is already the leading technology in the world for data communications and is rapidly becoming the technology of choice for higher-level industrial control applications that call for real-time data. In order for Ethernet to be used in industrial environments, cables and connectors must be adapted to withstand harsh environmental conditions often found there. They must resist oils, chemicals, humidity, weld spatter, twisting and bending, across a range of hot and cold temperatures. Moreover, they must cut out environmental electronic noise (EMI/RFI) coming from nearby AC or DC circuits, motor drives, etc., which can otherwise have a negative effect on network performance.
Users of the new TE M12 industrial Ethernet cable assemblies can choose from a wide range of features to meet their specific needs. Jacketing, for example, is in PVC, or halogen-free PUR or other FRNC (flame retardant, non-corrosive) materials.
PVC provides a competitive and economic solution for occasional movement or vibration, but lacks in areas such as flex properties, while PUR is more suited to more demanding applications in, for example, drag chains and harsh environments where operational reliability is crucial.
Depending on the material, the assemblies withstand up to 1 million flexes, machine oils, abrasion and UV radiation. A compact full-metal housing with crimp flange/crimp sleeve provides 360-degree shielding against EMI/RFI interference. The hexagonal crimp of the sleeve gives a vibration-resistant and torsion-proof cable strain relief, in accordance with IEC 61 373, Category 1, Class B, as well as safe shield termination. Category 5e cables can realize transmission rates of 100Mbps to meet network requirements in the field and at supervisory management levels. The new assemblies are available with several standard cable length options from 0.5m through to 30m.
"TE M12 Ethernet cable assemblies deliver the speed, reliability and ruggedness that smart factories demand," Sevastidou says. "With the high cost of downtime in industrial applications, it pays to invest in cable assemblies that provide reliable high performance."
More information is available here.