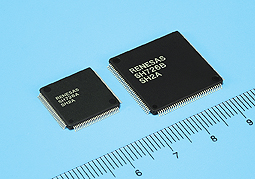 MSC now offers the SH726A SuperH 32-bit microcontroller (MCU) from Renesas Electronics. The SH726A, which is available in a 120-pin Quad Flat Package with a package size of only 14 mm × 14 mm, enables a significant reduction in system costs.
As with all SH726A and SH726B MCUs, which are optimized for use in audio systems and industrial equipment with USB/Bluetooth support, the smallest of the total of six new MCUs also features up to 1.25 MB on-chip RAM, a ready to use media player, a FAT file system as well as high-performance Bluetooth profiles. In addition, by means of a new bus controller that is integrated on the chip, for the first time a serial SPI flash ROM as external flash memory can be used for direct data access. With this solution the total number of pins of the device was reduced further without having to make compromises regarding the usual low memory access time for parallel NOR flash memory.
A maximum CPU operating frequency of 216 MHz guarantees implementation of highly efficient digital audio signal processing, even with simultaneous echo cancelling/noise suppression, in addition to audio playback. The SH726B MCUs also implement two Full-Speed USB channels on-chip, providing support for the connection of multiple USB devices.
MSC Vertriebs GmbH
www.msc-ge.com