Silicon Labs introduced a new family of silicon TV tuners offering the industry's highest performance, integration and lowest system cost while supporting all worldwide terrestrial and cable TV standards. The new Si21x7 tuner family provides TV and set-top box (STB)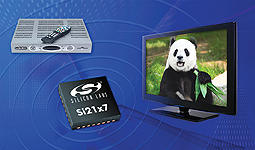 makers with an unsurpassed level of field-proven, global performance based on five generations of patented architectural enhancements and a production history of more than 200 million silicon tuner units shipped into TVs to date. The Si21x7 family includes five products optimized for hybrid analog/digital iDTVs, analog-only TVs, portable TVs, DVD and Blu-ray recorders, and terrestrial and cable STBs.
The Si21x7 TV tuner family offers the same best-in-class sensitivity and selectivity, reduced bill of materials (BOM) cost and low power consumption that TV and STB makers have come to expect from Silicon Labs, while enhancing performance in several key areas. The Si21x7 tuners improve noise figure (NF) across all bands, return loss for a given NF, channel selectivity in the presence of terrestrial blockers and in a fully loaded and/or tilted cable spectrum, and linearity over an extended RF input power range. Improvements in these key areas deliver enhanced reception of terrestrial or cable broadcasts across a broad variety of real-world field conditions, and they extend Silicon Labs' lead in TV tuner performance over competing solutions.
The highly integrated Si21x7 tuners are designed to enable the lowest BOM cost of any silicon TV tuner solution in mass production. Unlike competing silicon TV tuners, the Si21x7 tuners require no external balanced-to-unbalanced transformer (balun) on the RF input, which significantly reduces system cost and complexity without performance degradation. In addition, the Si21x7 TV tuners integrate all tracking filter inductors, and they eliminate the need for inductive power supply filtering, thanks to built-in high supply ripple tolerance, a key consideration for on-board designs.
Silicon Labs
www.silabs.com/pr/tv-tuner