Laird, a global technology company, announced the release of the high performance Class 1 Bluetooth 700 Series modules, which includes both the BT730 and BT740 variant modules. Mass production quantities of modules and the associated development kits are available now from all Laird global distributors.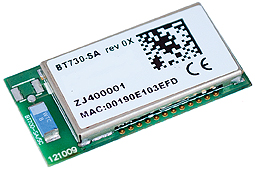 Key application areas for the BT700 Series include medical devices, ePOS terminals, automotive diagnostic equipment, barcode scanners, and industrial cable replacement. Every BT700 Series module is designed to add robust, long-range Bluetooth data connectivity to any device.
Based on the market-leading Cambridge Silicon (CSR) BC04 chipset, the modules provide exceptionally low power consumption with outstanding Class 1 range via 18 dBm of transmit power. All BT700 series modules support either on board antenna or u.FL for external antenna connection plus a broad range of Bluetooth profiles including Serial Port Profile (SPP) and a robust AT command interface ensures customers the fastest time to market. The BT730 variant modules are based on the Bluetooth v2.0 specification, providing OEMs with a time served firmware implementation, used across similar Laird Bluetooth modules. The range of the BT730 variant modules are proven in the Laird application note, Laird BT730 Range Testing. The application note describes the setup, procedure and results of reaching almost 1,000 meters with two Laird BT730 radios. The BT740 variant modules support the Bluetooth v 2.1 specification, including Secure Simple Pairing, which enhances security and ease of use for end customers. The innovative embedded firmware provides programming support for multi-point applications that use up to seven simultaneous data connections to and from the BT740 modules.
The BT700 Series modules are all fully qualified as Bluetooth End products, enabling designers to integrate the modules in devices without the need for further Bluetooth Qualification. A low-cost developer's kit makes it easy for an OEM to integrate the module and guarantees the fastest route to prototype and then mass production.
Embedded wireless solutions from Laird include Summit Wi-Fi radio modules, a full line of Bluetooth® radio modules and innovative RAMP radio modules. These unique product solutions are ideal for applications in the industrial, medical and M2M communications industries.
Laird Technologies
www.lairdtech.com