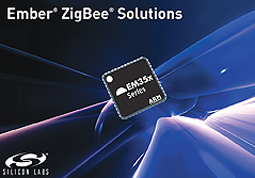 Silicon Labs announced that its Ember ZigBee solutions – silicon devices, software and development tools – have achieved Golden Unit certification from the ZigBee Alliance for the newly released ZigBee IP specification.
ZigBee IP is the first open standard for IPv6-based wireless mesh networking solutions, providing seamless, end-to-end Internet connectivity and a scalable architecture to control low-power devices. The new ZigBee IP specification adds network and security layers and an application framework to the IEEE 802.15.4 standard. It supports cost-effective, energy-efficient wireless mesh networks based on standard Internet protocols such as IPv6, 6LoWPAN, PANA, RPL, TCP, TLS and UDP. Ultimately, ZigBee IP will provide a standards-based foundation for Internet of Things (IoT) applications ranging from smart meters for the smart grid to in-home energy management systems to wireless sensor networks.
As one of the first to be certified by the ZigBee Alliance, Silicon Labs' Ember ZigBee solutions, including EM35x wireless system-on-chip (SoC) devices, Ember ZigBee IP networking software and development tools, will serve as a preferred development platform for building and testing future connected products based on the ZigBee IP specification. The Golden Unit certification process instills confidence among developers and end users that all connected device products for the IoT from different vendors will interoperate seamlessly.
Silicon Labs
www.silabs.com