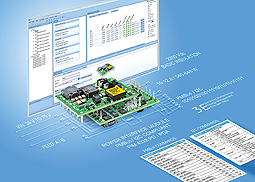 Ericsson has announced an extension of its 3E digital power module family with two new digital-communication-bus-enabled 540-648W low-profile quarter-brick Power Interface Modules (PIMs). Compliant with the 300W de facto industry-standard footprint and offering both I2C- and PMBus-based serial bus communications, the PIM4328PD and PIM4328PDA modules simplify board power monitoring and operational functionality without the need for additional external components, thereby shortening time-to-market and reducing development costs.
Based on the company's high-efficiency PIM4328P analog platform, the addition of bus communication to the modules increases the level of flexibility offered by digital monitoring, including voltage/current input parameters, making it possible for systems architects to evaluate the power consumption at board level – an important parameter to accurately monitor efficiency and also aid system compliance with energy efficiency legislation, where necessary.
Originally designed for Advanced Telecom Computing Architecture (ATCA) applications – because of the huge benefits delivered by a standalone module in terms of board space and time-to-market – the Information and Communications Technology industry is rapidly adopting PIM technology, which is becoming an increasingly important component for system designers in the migration to new platforms.
Ericsson Power Modules
www.ericsson.com/powermodules