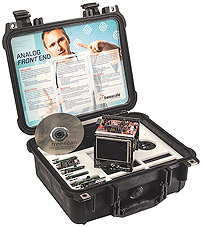 The global proliferation of portable medical devices is making medical technology more accessible to consumers and transforming the healthcare industry by providing previously unavailable technology to end users, often in their own home. Medical device manufacturers are facing the challenges of the consumer marketplace including its price sensitivity and time-to-market pressure.
To help simplify product development, reduce cost and speed time to market, Freescale Semiconductor is introducing a Healthcare Analog Front End (AFE) reference platform that includes hardware, schematics and software for easy prototyping. The global medical device industry is growing rapidly and is expected to reach $228 billion by 2015, up from $164 billion in 2010, according to a recent industry research report by Espicom. According to Gartner, portable consumer medical devices, such as blood glucose monitors, blood pressure monitors, insulin pumps and heart rate monitors, represent the fastest-growing segment in that market.
Reducing development costs
The Freescale Healthcare AFE reference platform is a highly integrated HW/SW development platform, that helps reduce system cost, board size and complexity. The platform is built around the Kinetis K53 MCU which includes an integrated analog front end (AFE) featuring everything needed to capture biometric sensor data.
The integrated AFE contains a precise voltage reference, four high performance amplifiers and two high-resolution ADC and DAC modules.
Freescale Semiconductor
www.freescale.com