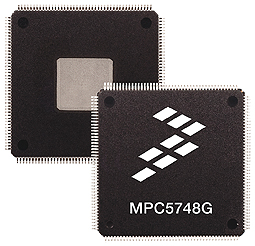 The automotive industry is changing rapidly to address complex challenges, including higher bandwidth networks, improving data security, implementing functional safety and reducing overall energy consumption. Freescale Semiconductor is expanding its Qorivva and S12 MagniV vehicle body network microcontroller (MCU) portfolios to address these challenges and bring a new level of integration and function to automotive body applications.
As the number of electronic control units in a vehicle grows, the amount of connectivity needed also increases. The average vehicle includes several miles of copper wire – weighing up to 150 lbs. or more – for in-vehicle networking. Integrating more functionality within the vehicle's main ECUs and increasing the intelligence of its satellite nodes (i.e. modules in doors or electric motors) can help reduce the number of ECUs and the amount of associated wiring required, eliminating weight in the vehicle wiring harness and helping improve vehicle fuel economy.
Along with the demand for greener cars, there is a major push for compliance with the ISO 26262 functional safety standard for automotive body modules, given the critical nature of the functions they enable such as exterior lighting and wind shield wipers. And as wireless communication to and from the vehicle becomes more prevalent, there is a growing need for security measures within automotive microcontrollers – to safeguard the intellectual property they contain and also prevent unauthorized and potentially dangerous access to the vehicle network.
Freescale's new Qorivva MPC5748G and S12 MagniV S12ZVL/S12ZVC MCUs are complementary technologies with the Qorivva central controller acting as the networking gatekeeper with centralized data security, intelligent power management and ASIL support for functional safety, and the S12 MagniV satellite nodes having integrated power supplies and communications transceivers embedded onto smart mixed-signal MCUs.
Freescale Semiconductor
www.freescale.com