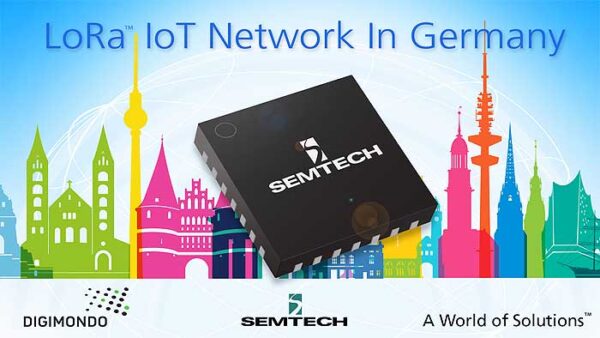 Semtech Corporation, a leading supplier of analog and mixed-signal semiconductors, demonstrated a LoRaWAN™ Internet of Things (IoT) network deployed by Digimondo, https://digimondo.de/ a subsidiary of E.ON, http://www.eon.com/en.html a leading international energy supplier, at Embedded World 2016 https://www.embedded-world.de/en on February 23-25 in Nuremberg, Germany. Digimondo launched low power wide area networks (LPWAN) over Nuremburg, Hamburg and Berlin and demonstrated the Nuremburg network performance during the tradeshow by wirelessly tracking public transportation vehicles across the city. The vehicles' movement displayed on a monitor at the Semtech (2-631) and Microchip (1-510) booths.
Digimondo, started by E.ON in June 2015 to help digitalize the German energy industry, intends to launch an open LPWAN based on the LoRaWAN standardized specification that will enable innovative IoT applications, such as public transportation tracking, smart metering, air pollution measurement, boat tracking and more. The network infrastructure, which was tested in Hamburg and Berlin in 2015, has been approved for further deployments in Munich, Frankfurt, Stuttgart, Düsseldorf, Essen, Cologne, as well as rural areas where volumes are secured. The network is expected to be open to outside enterprises by mid-2016.
"We're excited to showcase the capabilities of LoRa using Digimondo's LPWAN network in Nuremberg," said Marc Pegulu, Vice President & General Manager of Semtech's Wireless, Sensing & Timing Product Group. "Digimondo's commitment to providing an open access LPWAN in Germany will help enable a variety of IoT applications in the region."
Marcus Walena, CEO of Digimondo believes that LPWANs are the missing piece to enable IoT and digital smart city infrastructure in Germany. "It is Digimondo's mission to provide Germany's best and easiest to use LoRa LPWAN," said Walena. "We are proud to have partners like E.ON and Semtech to support our efforts. 2016 is the year of IoT – the Digimondo LPWAN is part of it."
In addition to the demo, Microchip, a member of the LoRa™ Alliance, http://www.lora-alliance.org/ an international group of industry leaders, telecom operators and solutions providers committed to standardizing LPWANs, gave away LoRa-based development kits connected to the Digimondo network during the Embedded World exhibition so attendees evaluated the network's performance.
Both Digimondo's network and Microchip's development kit are equipped with Semtech LoRa RF technology, which was developed to enable LPWANs and IoT applications. LoRa technology offers unprecedented range, battery life, penetrability and connectivity, and it has been implemented in a wide range of LPWAN and application deployments worldwide. LoRa technology is being used for agriculture monitoring, public safety, building and infrastructure management, water conservation, natural disaster tracking and more.
Semtech
www.semtech.com