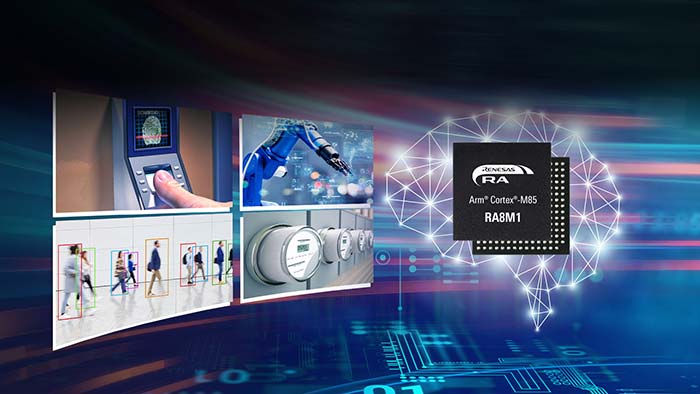 Renesas Electronics Corporation (TSE:6723), a premier supplier of advanced semiconductor solutions, today introduced the world's most powerful microcontrollers (MCUs), delivering breakthrough performance of over 3000 CoreMark points, and fully deterministic, low latency, real-time operation that satisfies customers' most demanding application needs. The new RA8 Series MCUs are the industry's first to implement the Arm® Cortex®-M85 processor, enabling the new devices to deliver industry-leading 6.39 CoreMark/MHz EEMBC's CoreMark® benchmark measures performance of MCUs and CPUs used in embedded systems. performance. This level of performance will allow system designers to use the RA MCUs in applications that previously required microprocessors (MPUs). The new series is part of Renesas' popular RA Family of MCUs based on Arm Cortex processors. Existing designs built for other RA devices can easily be ported to the new RA8 MCUs.
Helium Technology for Superior AI Performance
The new RA8 Series MCUs deploy Arm Helium™ technology, Arm's M-Profile Vector Extension that provides a 4X performance boost for digital signal processor (DSP) and machine learning (ML) implementations versus MCUs based on the Arm Cortex-M7 processor. This performance uplift can enable customers to eliminate an additional DSP in their systems for certain applications. Renesas demonstrated the performance uplift with Helium technology at Embedded World 2023, with its very first silicon. Renesas is a leader in AI for the edge and endpoint with a wide range of embedded AI and TinyML solutions for advanced applications in automotive, industrial and commercial products based on its Reality AI Tools, as well as an extensive portfolio of embedded processing and IoT offerings. The new RA8 Series MCUs enable edge and endpoint devices to implement natural language processing in voice AI and predictive maintenance applications, using Helium to accelerate the neural network processing.
"We're proud to introduce the new RA8 Series with the powerful Arm Cortex-M85 processor. As the world's MCU leader, our customers expect leading-edge performance and functionality from Renesas," said Roger Wendelken, Senior Vice President and Head of the MCU Business at Renesas. "They also rely on us to help them navigate new trends and technical challenges. The RA8 Series sets a new bar for MCU performance and features and will ease the implementation of AI in a huge array of new applications."
"The advent of AI is increasing demand for intelligence at the edge and endpoints to serve new applications across diverse markets including industrial automation, smart home, and medical," said Paul Williamson, Senior Vice President and General Manager, IoT Line of Business, Arm. "Renesas' new MCUs, built on Arm's highest-performing and most secure Cortex-M processor to date, are specifically optimized for signal processing and ML workloads, and will be game-changing for innovators looking to address the growing AI opportunities in the embedded and IoT space, without compromising on security."
Leading Security Features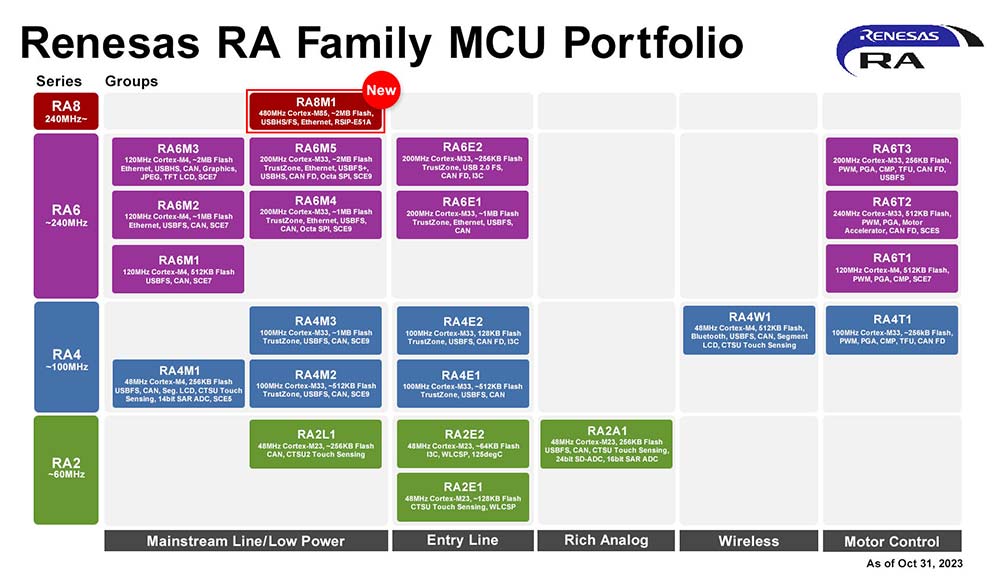 In addition to leading performance, RA8 Series MCUs offer advanced, leading-edge security. The Cortex-M85 core includes Arm TrustZone® technology which enables isolation and secure/non-secure partitioning of memory, peripherals and code. The RA8 Series MCUs introduce the most advanced Renesas Security IP (RSIP-E51A) that provides leading edge cryptographic accelerators and supports a true secure boot. Other advanced security features include immutable storage for a strong hardware Root-of-Trust, Octal SPI with Decryption-on-the-fly (DOTF), secure authenticated debug, secure factory programming and tamper protection. In concert with Arm TrustZone, this enables comprehensive and fully integrated secure element functionality. The Armv8.1-M architecture introduces Pointer Authentication and Branch Target Identification (PACBTI) security extension that provides mitigation for software attacks targeting memory safety violations and memory corruptions. The RA8 Series also targets PSA Certified Level 2 + Secure Element (SE), NIST CAVP and FIPS 140-3 certifications.
Low Power Features
RA8 Series devices integrate new low power features and multiple low power modes to improve power efficiency, even while providing industry-leading performance. A combination of low power modes, independent power domains, lower voltage range, fast wakeup time and low typical active and standby currents enables lower overall system power and allows customers to meet regulatory requirements. The new Arm Cortex-M85 core also performs various DSP/ML tasks at much lower power.
RA8M1 Group Shipping Today
Renesas has begun volume shipments of the first devices in the RA8 Series, the RA8M1 Group. RA8M1 Group MCUs are general-purpose devices that address diverse compute intensive applications in industrial automation, home appliances, smart home, consumer, building/home automation, medical and AI in applications such as fingerprint scanners, thermostats, PLC, smart meters and home hubs.
Key Features of the RA8M1 Group MCUs
Core: 480 MHz Arm Cortex-M85 with Helium and TrustZone
Memory: Integrated 2MB/1MB Flash memory and 1MB SRAM (including TCM, 512KB ECC protected)
Peripherals: xSPI compliant Octal SPI with XIP and decryption-on-the-fly (DOTF), CAN-FD, Ethernet, USBFS/HS, 16-bit camera interface, and I3C, among others
Advanced Security: Leading-edge cryptographic algorithms, TrustZone, immutable storage, tamper resistance with DPA/SPA attack protection, secure debug, secure factory programming and lifecycle management support
Packages: 100/144/176 LQFP, 224 BGA
The new RA8M1 Group MCUs are supported by Renesas' Flexible Software Package (FSP). The FSP enables faster application development by providing all the infrastructure software needed, including multiple RTOS, BSP, peripheral drivers, middleware, connectivity, networking, and security stacks as well as reference software to build complex AI, motor control and cloud solutions. It allows customers to integrate their own legacy code and choice of RTOS with FSP, thus providing full flexibility in application development. Using the FSP will ease migration of existing designs to the new RA8 Series devices.
A number of customers are already designing with the RA8M1 Group MCUs. For example, Mantra Softech, an industry-leading provider of biometric solutions, has employed the devices in a new, sophisticated fingerprint scanner. Mr. Hiren Bhandari, Technical Director at Mantra, said, "We are delighted with the functionality and efficacy of the RA8M1 MCUs. The combination of high performance and Helium technology enables us to integrate AI features into this solution, giving us a distinct market advantage. Additionally, the camera interface and significantly high memory allowed us to simplify our design."
Winning Combinations
Renesas has combined the new RA8M1 Group MCUs with numerous compatible devices from its portfolio to offer a wide array of Winning Combinations, including Smart Robotic Vacuum Cleaner and Smart Glasses. These Winning Combinations are technically vetted system architectures from mutually compatible devices that work together seamlessly to bring an optimized, low-risk design for faster time to market. Renesas offers more than 400 Winning Combinations with a wide range of products from the Renesas portfolio to enable customers to speed up the design process and bring their products to market more quickly. They can be found at renesas.com/win.
Availability
The RA8M1 Group MCUs are available now, along with the FSP software. Renesas is also shipping the RA8M1 Group Evaluation Kit (RTK7EKA8M1S00001BE). Various Renesas Ready partners also provide production-ready solutions for the RA8M1 MCUs. Renesas welcomes other partners who would like to port their software solutions to take advantage of the Cortex-M85 core and Helium.
Information on all these offerings is available at renesas.com/RA8M1. Samples and kits can be ordered either on the Renesas website or through distributors.
Renesas MCU Leadership
The world leader in MCUs, Renesas ships more than 3.5 billion units per year, with approximately 50% of shipments serving the automotive industry, and the remainder supporting industrial and Internet of Things applications as well as data center and communications infrastructure. Renesas has the broadest portfolio of 8-, 16- and 32-bit devices, delivering unmatched quality and efficiency with exceptional performance. As a trusted supplier, Renesas has decades of experience designing smart, secure MCUs, backed by a dual-source production model, the industry's most advanced MCU process technology and a vast network of more than 200 ecosystem partners. For more information about Renesas MCUs, visit renesas.com/MCUs.
EEMBC's CoreMark® benchmark measures performance of MCUs and CPUs used in embedded systems.
Renesas Electronics Corporation