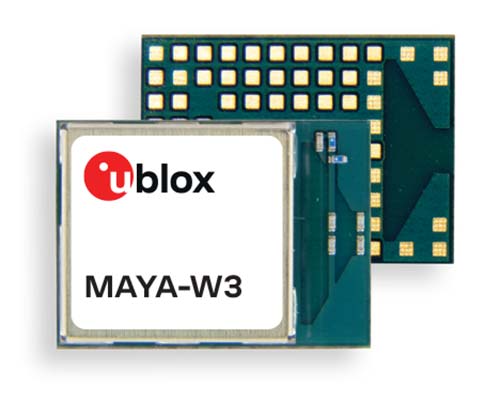 u-blox, a global provider of leading positioning and wireless communication technologies and services, has announced the MAYA–W3 family, a series of compact dual-mode Bluetooth LE 5.4 modules with LE Audio. The modules also support Wi-Fi 6/E and are designed for demanding industrial applications, including healthcare, industrial automation and monitoring, asset tracking and management, and smart home applications.
MAYA-W3 is available in several variants, offering Wi-Fi 6, Wi-Fi 6/E, tri-band, dual-band, and single-band configurations. It can be combined with various antennas, such as antenna pin(s) or U.FL connectors, and comes equipped with an LTE filter to coexist with other technologies. The choice of variant depends on the desired performance.
According to TSR* (Techno Systems Research CO. LTD.), Wi-Fi 6 adoption is expected to increase steadily, reaching almost 50% of the market by 2028, with IoT devices beginning adoption as early as 2024. The u-blox MAYA-W3 series aligns with this trend, bringing the latest benefits of Wi-Fi 6 and the 6 GHz band to a wealth of industrial applications. It alleviates network congestion, enhances power efficiency, and can operate in temperatures ranging from -40 ºC to +85 ºC.
The new modules also support designers' efforts to scale solutions for current and future market trends. Maintaining the same compact dimensions as its predecessors (10 x 14 x 1.9 mm) simplifies migration across generations.
MAYA-W3 includes Bluetooth LE Audio for point-to-point voice communication and voice broadcasting. All module variants hold global certifications for both Wi-Fi and Bluetooth.
"MAYA-W3 incorporates the latest wireless technologies, Wi-Fi 6/E and LE Audio. It is a fast time-to-market solution within a compact, cost-efficient and globally certified module.  Its versatility makes it an asset for various applications, including assisted living, power tools, container tracking, and solar inverters, to name a few. Additionally, the u-blox technical support team can assist with fast implementation," says Sebastian Schreiber, Senior Product Manager for Short Range Radio, u-blox.
MAYA-W3 is based on Infineon chipsets with a tri-band, dual-band, and single-band variant. 
"We are thrilled to expand our long-term partnership with u-blox with the integration of our ultra-low power AIROCTM CYW55513 Wi-Fi 6/6E and Bluetooth® 5.4 chipset into the MAYA W3 module. CYW55513 goes beyond the Wi-Fi 6/6E standards to deliver robust connectivity in all types of environments enabling the MAYA-W3 to be used in a variety of industrial applications like remote monitoring and control, industrial automation, asset tracking, solar infrastructure and EV charging, etc.," said Sivaram Trikutam, Vice President of Wi-Fi Products, Infineon Technologies.
Samples are available now, with volume production scheduled for Q3-2024.
*TSR is a global business analyst group headquartered in Japan.