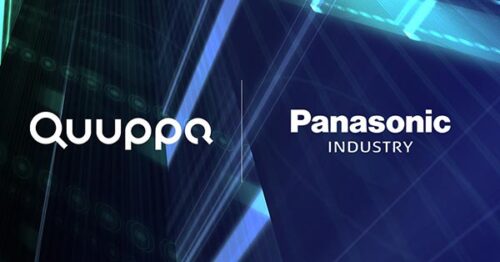 Panasonic Industry announces the partnership with Quuppa, a leading technology provider for Real Time Locating Systems (RTLS) and indoor positioning systems, to enable Bluetooth Low Energy (BLE) functionality for Logiscend Software 3.0. Quuppa's Intelligent Location™ system is seamlessly integrated into the Logiscend software, providing real-time location data using BLE-based Angle-of-Arrival (AoA) technology to track objects and devices in near real-time with an accuracy of less than one meter.
Quuppa's technology enables new features of Logiscend Software 3.0 that enhance the Logiscend System's location management capabilities. Logiscend Software 3.0 also improves the platform's user access controls, data segmentation and data management features, and Pick and Replenishment configurability. A turnkey material flow management solution for complex, discrete manufacturing, the Logiscend platform improves efficiency and performance across a variety of manufacturing applications, including picking, replenishment, asset tracking, smart container, and work instructions.
With Logiscend Software 3.0 users are able to track and locate any part at any time with a high degree of accuracy, increasing efficiency by providing visibility of bottlenecks and triggering automated workflows based on small changes in the location of assets. The Quuppa system combined with Panasonic VIEW tags will help eliminating paper and providing real time instructions to the manufacturing floor.
"We identified the need for a flexible platform that could integrate different IoT technologies with the Logiscend system to enable unique solutions for specific manufacturing use cases," said Rene Wermke, Senior Business Development Manager, Panasonic Industry Europe. "This partnership with Quuppa is the latest example of supporting new IoT technology integration with the Logiscend system to improve productivity and lower costs."
By incorporating the Quuppa system with Logiscend's rules engine and automated response workflows, users can configure automated actions to be taken based on an asset moving just a short distance or entering and exiting geofenced areas. The Quuppa Logiscend solution can visually display the location of a container or asset on a digital map of the facility and eliminate the searching for lost parts and assets, a common pain point for manufacturers.
"We are very excited to partner with Panasonic Industry globally. The usage of RTLS systems is rapidly expanding within the logistics and manufacturing sector and Panasonic already has a long history of working with such companies. Our joint offering opens an opportunity to provide their existing customers and prospects new ways to increase efficiencies via location-based services, says Sammy Loitto, CEO of Quuppa.
The Logiscend 3.0 software includes data segmentation tools that allow administrators to segment data and control access in the Logiscend system. Logiscend 3.0 software also enhances the configurability of the Logiscend system's Pick and Replenishment applications.
To learn more about Logiscend, visit Logiscend – An Industrial IoT Solution | Panasonic Corporation