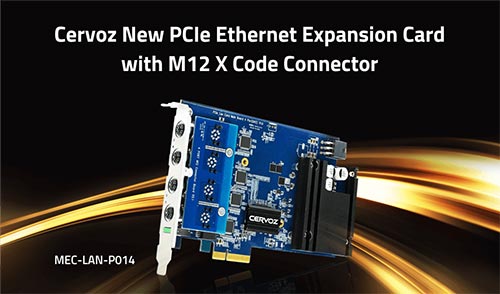 Cervoz has announced the launch of its latest product, the PCIe Ethernet expansion card with M12 X Code connector, MEC-LAN-P014. This new PCIe Ethernet expansion card is designed to provide reliable and stable network connectivity in harsh environments.
Add-on PoE+ Module
As IoT and edge computing has been growing rapidly, a reliable Ethernet connection is crucial to success.  Cervoz new PCIe Ethernet expansion card, MEC-LAN-P014 with M12 X Code connector is a powerful Ethernet solution and provides an add-on Power over Ethernet Plus (PoE+) module, which enables power and data to be transmitted over a single Ethernet cable, eliminating the need for separate power cables and delivering higher power consumption and wattage to the edge PD (power device).
M12 X-Code Connector
The M12 X Code connector is specifically designed for industrial environments and provides a secure and reliable connection that is resistant to dust, water, and vibration. This connector is ideal for use in harsh conditions where traditional connectors may not be able to withstand the demands of the environment. The MEC-LAN-P014 is ideal for embedded PC to deploy in industrial automation, transportation and outdoor applications.
2/4-Port PCIe Ethernet Expansion Card Features
PCI Express Gen 2.0 x4 interface
2/4 isolated GbE LAN ports
Complies with IEEE 802.3at
M12 X Code waterproof connector
External PoE+ module power supply (optional)
Support Microsoft Windows 7/8/10
Applications
For more information on the PCIe Ethernet Card with M12 X Code connector, please visit Cervoz or contact us.
Read more:
PoE Technology
Flyer-Cervoz PoE+ Ethernet Expansion Card 
Cervoz PCIe Ethernet Expansion Card with RJ45 Connector