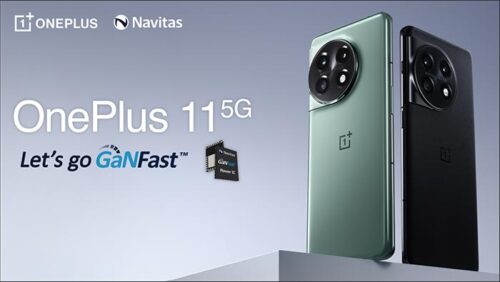 Navitas Semiconductor (Nasdaq: NVTS), the only pure-play, next-generation power semiconductor company and industry leader in gallium nitride (GaN) power ICs and silicon carbide (SiC) technology, has confirmed that its GaNFast technology fast-charges the newly-released OnePlus 11 5G flagship smartphone.
Powered by a Qualcomm Snapdragon 8 Gen 2 chipset, the flagship OnePlus 11 5G combines a modern, elegant design with effortless imaging supported by the 3rd Generation Hasselblad Camera for Mobile.
The 100 W SUPERVOOC charger shipped with the OnePlus 11 5G is built around an NV6134 GaNFast IC, with integrated GaN power and drive, plus control, protection and sensing in a high-frequency, quasi-resonant (HFQR) topology. This enables up to three-times faster charging, and up to 40% energy savings, in only half size and weight compared to legacy silicon solutions. As a result, the small 55 x 55 x 28 mm (85 cc) charger weighs only 112 g, and achieves 1.18 W/cc power density. Charging the phone's 5,000 mAh battery from 1-50% takes only 10 minutes, and full 1-100% in around 25 minutes.
Navitas was featured as a key partner – alongside Google, Snapdragon, Hasselblad and Dolby – during the official OnePlus 11 5G launch event which took place in New Delhi on 7th February and livestreamed around the world. Navitas has worked closely with OnePlus, releasing a series of GaNFast chargers into mass production, and co-operating in live events such as the promotion of the OnePlus 10T and 10R models at Nasdaq and CES 2023.
"We continue to push the boundaries, to provide the ultimate fast charging experience to our users." says Mr. Kinder Liu, OnePlus COO and Head of R&D. "Our strong collaboration with Navitas has allowed us to provide an advanced charger that not only delivers power quickly and efficiently to the high-capacity battery built into the OnePlus 11 5G, but also keeps charger size and weight to an absolute minimum."
"The relationship with OnePlus continues to go from strength to strength, says Navitas founder and CEO, Gene Sheridan. "We are honored that our technology has once again been selected by OnePlus and excited to have been invited to play a part in the official launch of the OnePlus 11 5G."
About OnePlus
OnePlus is a global mobile technology company challenging conventional concepts of technology. Created around the "Never Settle" mantra, OnePlus creates exquisitely designed devices with premium build quality and high-performance hardware. OnePlus thrives on cultivating strong bonds and growing together with its community of users and fans. For more information, please visit www.oneplus.com.