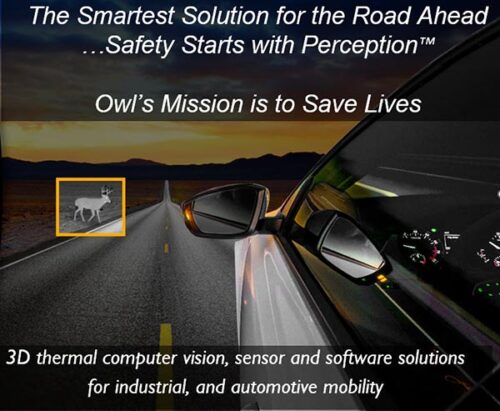 Owl Autonomous Imaging (https://www.owlai.us) today announced the availability of a new whitepaper that explains how the Owl Thermal RangerTM uses convolutional neural networks (CNNs) to accurately and reliably locate and classify pedestrians and animals in the dark from their own thermal signatures using just one infrared camera.
In addition to a new Monocular 3D Thermal camera that is more precise, smaller, and less expensive than other automotive thermal safety solutions, Owl's unique CNN software can quickly and accurately classify and measure the position of Vulnerable Road Users (VRUs). Once identified, the system then alerts the driver, and if the driver does not react fast or accurately enough, the vehicle's brakes and steering system can be instantly activated to prevent damage to the vehicle, and more importantly, avoid harm to the VRU.
Throughout the world, government agencies and industry organizations are in the process of developing and implementing new safety regulations that will force vehicle makers to adapt new safety technologies that are much more effective than those in use today. This opens the door to Thermal Imaging for Pedestrian Safety.

This whitepaper covers the history of convolutional neural networks, how the technology works (AI/machine training), why the CNN approach is the best solution to address current pedestrian safety concerns?   and how auto manufacturers can implement it.
"If you are involved in the development of next generation autonomous vehicle safety and ADAS systems, "it is essential for you to understand how CNNs contribute to thermal imaging capabilities."" said Chuck Gershman, CEO & Co-founder of Owl Autonomous Imaging. "Safety is a critical gating point for the automotive industry's successful implementation of autonomous and self-driving vehicles. Being able to see at night and recognize pedestrians and animals in the road is an important safety hurdle that needs to conquered."
In additional to these technical details in the whitepaper, there are a handful of related videos online at Owl Autonomous Imaging's YouTube page. https://www.youtube.com/@owlautonomousimaging
This new CNN whitepaper can be downloaded from the Owl Autonomous Imaging website https://www.owlai.us/request-white-paper