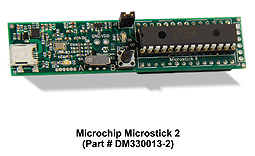 Key Facts:
• Microstick II development tool with integrated programmer and debugger
• Use standalone or with a prototyping board
• Supports easier, more flexible and lower cost development
Microchip announces the lowest-cost development tool supporting 3.3V 16-bit and 32-bit PIC® microcontrollers (MCUs), as well as 16-bit dsPIC® Digital Signal Controllers (DSCs) in 28-pin SPDIP packages.
The flexible Microstick II tool features everything designers need to start development with these MCUs and DSCs, including an integrated debugger and programmer, user LED, reset button, and DUT socket for easy device swapping. The USB-powered tool can be used standalone, or plugged into a prototyping board for extremely flexible development, and is supported by the MPLAB® Integrated Development Environment (IDE). This tool makes it easy to evaluate and develop with Microchip's broad range of
16- and 32-bit products, enabling developers to find the best MCU or DSC for their applications.
The Microstick II tool (DM330013-2) is priced at $34.95 and includes a USB cable, two 1×14 header pins for proto-board use, sample MCUs, and sample DSCs.
For more information, visit the Microchip Web site: http://www.microchip.com/get/1JJH