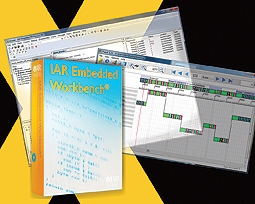 Express Logic, Inc., the worldwide leader in royalty-free, real-time operating systems (RTOS), and IAR Systems®, the leading independent provider of software development tools for embedded systems, announced that IAR Systems will sell and support Express Logic's ThreadX® RTOS, integrated with IAR Embedded Workbench®, for development of real-time embedded systems. By becoming a single-source, total solution provider for ThreadX and IAR Embedded Workbench, IAR Systems answers developers' needs for tightly integrated, easy-to-use tools that make embedded development faster, easier, and more productive. IAR Embedded Workbench is in use by over 14,000 companies worldwide, and Express Logic's ThreadX RTOS is deployed in more than 1 billion electronic products, in consumer electronics, medical devices, and industrial control systems.
Developers of 32-bit embedded systems generally use an RTOS to manage the real-time scheduling of multithreaded applications and an integrated development environment to build applications from source code into firmware. The more integrated the combined tools, the easier the development solution. IAR Systems and Express Logic have, therefore, combined IAR Embedded Workbench and ThreadX, each widely used and highly regarded, to provide a much more powerful, affordable, fully integrated tool, which developers can purchase from IAR Systems.
The Products
Express Logic's ThreadX RTOS is a priority-based, preemptive scheduling RTOS for embedded applications. ThreadX is small in size, fast in real-time performance, and 100% royalty-free, making it ideal for applications in SoC development and end products. ThreadX is widely used in a variety of electronic products from highly regarded manufacturers, such as Apple, Sony, Broadcom, Welch-Allyn, and GE.
IAR Embedded Workbench is a high-performance C/C++ compiler and debugger tool suite for applications based on 8-, 16-, and 32-bit microcontrollers. IAR Embedded Workbench features comprehensive and capable tools that allow developers to build new competitive products.
Integrated Features
The IAR Embedded Workbench and ThreadX RTOS integration provides an unprecedented level of intuitiveness and efficiency. Embedded development will become easier and faster, resulting in shorter time to market and better-performing, end-user products.
Express Logic and IAR Systems offer these integrated features:
• ThreadX C/C++ and Assembly source code is 100% IAR compiler/assembler-compatible;
• ThreadX source code and libraries are structured as IAR Embedded Workbench projects, enabling immediate project building and debugging;
• The IAR C-SPY® Debugger includes ThreadX RTOS Awareness, providing insight into application threads, message queues, semaphores, mutexes, and other kernel objects;
• ThreadX RTOS Awareness shows thread-level execution profiling, giving developers critical information about CPU timing;
• Automatic RTOS and application event-trace displays can be selected from the IAR C-SPY Debugger with just a single click;
• IAR Embedded Workbench supports project configurations to control compiler optimizations for size and speed, and ThreadX build options for debug, trace, and execution profiling, enabling various application and RTOS builds to support different development activities.
ThreadX for IAR Embedded Workbench can be downloaded for a free trial from IAR Systems' web site at: www.iar.com/ThreadX The free trial is available for a variety of 32-bit processor architectures and includes a pre-built ThreadX library and full source code for a demo application that can be modified to form real applications.
Express Logic and ThreadX
www.rtos.com
IAR Systems
www.iar.com