Microchip announces its first Bluetooth® 4.1 Low Energy module. The RN4020 builds on Microchip's deep Bluetooth Classic experience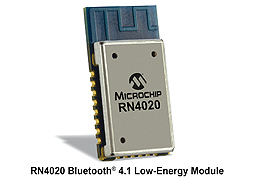 and carries both worldwide regulatory certifications and is Bluetooth Special Interest Group (SIG) certified. The integrated Bluetooth Low Energy (BTLE) stack and onboard support for the common SIG low-energy profiles speeds time to market while ensuring Bluetooth compatibility, eliminating expensive certification costs and reducing development risks. The module is also pre-loaded with the Microchip Low-energy Data Profile (MLDP), which enables designers to easily stream any type of data across the BTLE link.
Because the RN4020 is a stack-on-board module, it can connect to any microcontroller with a UART interface, including hundreds of PIC® microcontrollers, or it can operate standalone without a microcontroller for basic data collection and communication, such as a beacon or sensor. This standalone operation is facilitated by Microchip's unique no-compile scripting, which allows module configuration via a simple ASCII command interface, with no tools or compiling required.
Designers of cost-sensitive embedded applications are looking for turnkey solutions that make it easy to add the low power consumption and simplicity of Bluetooth LE connectivity, which enables several years of operation from a single battery and has a large installed base of compliant smartphones, tablets and computers. Example markets that need these low-power wireless command-and-control solutions include home automation and appliances; medical and wearable devices; toys, tags, fobs and remote controls; pulse and proximity sensor-based systems; and even industrial applications.
Key Facts:
• Integrates a Bluetooth 4.1 Low Energy (BTLE) stack for use with or without a host MCU
• Turnkey solution includes all the hardware, software and certifications for low-power wireless command-and-control connectivity
• Simple ASCII command configures stack-on-module for standalone operation
• Ensures Bluetooth compatibility whilst eliminating certification costs
Microchip Technology
www.microchip.com/get/K6QA