COiN Offers Longest Lasting, Longest Range, Most Secure & Flexible Bluetooth® Beacon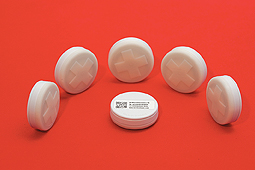 EM Microelectronic introduced the COiN Bluetooth beacon. COiN is a versatile, high performance, low power solution that can be deployed anywhere iBeacon™ technology is used, but which also supports wireless sensor networking and many other applications over Bluetooth® Smart (Bluetooth with a Low Energy Core Configuration) wireless communications.
Low Power
Due to its unique design, COiN consumes less than 20µA average in a typical application, resulting in more than 18 months' operation from a single CR2032 battery, which is included in the beacon. COiN also contains a built-in pushbutton switch, thus guaranteeing that your beacons have a full charge when they are deployed. Integrated red and green LEDs provide users with feedback about the device's operating mode. Just click and stick!
Long Range
The COiN's integrated printed circuit antenna not only minimizes cost, but maximizes communication range. At the 0dBm output power setting, EM Microelectronic's beacons can be detected 75 meters away by an iPhone® 5S, and at maximum output power, that distance extends up to 120 meters.
Secure
Due to COiN's optimized circuit architecture, it is completely immune to over-the-air attacks, meaning that a well-placed beacon is very secure. It cannot be "hacked" or modified unless the perpetrator has complete physical possession of the device.
Weatherproof
COiN is shipped pre-programmed, complete with a Renata CR2032 battery and a weatherproof plastic enclosure for easy deployment, making it suitable for use at outdoor music festivals, sporting events and arenas, and anywhere a beacon is required to withstand the elements.
Flexible
Though COiN is available in-stock pre-programmed and with a standard housing, the standard COiN hardware and firmware are easily modified to fit most applications. At the most basic level, COiN firmware can easily be modified to change the UUID, MAJOR ID, MINOR ID, output power, and beacon interval. These changes are useful for adapting the beacon for whatever smartphone software application/API is being used, segregating beacon populations and sub-populations, and for optimizing battery lifetime based on the desired use case.
Should more extensive firmware modifications be desired, EM offers a complete development kit. The COiN Development Kit includes five (5) COiN beacons, programming board and programming cable and is fully compatible with EM's line of software development tools for the EM6819; EM's ultra-low power microcontroller. Using these tools, customers have complete control over the firmware and can create their own Bluetooth Smart advertising packets and transmit real-time sensor data such as temperature, light level, battery voltage, or other physical phenomena.
The COiN enclosure can be customized to sport any embossed logo desired, making the beacon truly your product. No one will know that you leveraged EM's decades-long experience and engineering effort and expertise to create your Bluetooth beacon, and we won't say a word, though enclosure customizations are subject to a minimum purchase volume and tooling charges.
Not much larger than the CR2032 battery that powers it, COiN can be used almost anywhere. To assist in attaching and deploying COiN, EM offers a suite of accessories. The Key Fob Accessory snaps over COiN for attachment to key rings or for hook or loop-based attachment methods such as zip-ties. The Wall Mount Accessory can be nailed or screwed to a solid surface, and then COiN is snapped into place, completely hiding the Wall Mount. COiN can also be snapped into the Watch Band Accessory and any of a number of wrist bands for wrist-worn applications.
"COiN leverages EM's expertise in ultra-low power wireless and computing as well as our high quality standards and synthesizes them into a high performance, Bluetooth beacon that is ready to deploy out of the box, but flexible enough to be modified for many different applications," commented Michel Willemin, EM President. "We are already engaged with many companies who are using COiN with their App, API, SDK, or service to improve their performance and lower their overall cost. We believe that the availability of such a flexible, optimized Bluetooth beacon will enable a truly pervasive Internet of Things."
Availability
COiN, the COiN Development Kit and the Key Fob, Wall Mount, and Watch Band accessories are available through your local EM salesperson or distributor.
EM Microelectronic
www.emmicroelectronic.com