MSC Technologies, a business group of Avnet Electronics Marketing EMEA, a business region of Avnet Inc., announces a new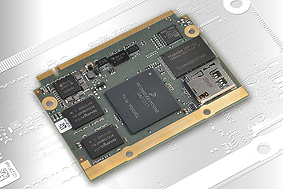 nanoRISC embedded processor module which is based on the Freescale i.MX6 System-on-Chip. Different members of the i.MX6 family of ARM Cortex-A9 processors, from single-core to quad-core, will be used for the module resulting in an extremely wide range of usable performance. The MSC nanoRISC-MX6x module can hold up to 4 Gbytes of DDR3 DRAM, up to 4 GBytes of SLC NAND Flash and optionally up to 64 Gbytes eMMC Flash. A microSD card holder on the module enables the addition of Flash memory cards. The MSC nanoRISC-MX6x module is fully compliant with the nanoRISC specification and provides for popular embedded I/O signals such as Ethernet, USB, CAN, UART, SPI, I2C and I2S audio.
The entry-level module nanoRISC-MX6S will use the single-core processor Freescale i.MX6S clocked at 800MHz for the industrial temperature module or 1GHz for the standard-temperature range. This module version features the lowest power consumption of typically 2.5W. There will be two dual-core versions using the Dual-Lite processor clocked at 800MHz/1GHz and the regular dual-core processor clocked at 800MHz/1.2GHz for industrial/standard temperature, respectively. The quad-core processor clocked at 800MHz/1.2GHz is used for the high-end module consuming typically 4.5W.
The new nanoRISC module based on these i.MX6 processors gives designers of target systems the opportunity to achieve different performance and price points by alternatively using the entry-level module or any of the higher-performance products, making use of the total hardware and software compatibility between them. Considering the other nanoRISC modules available from MSC Technologies, system designers now have an extremely wide choice of performance, price and features among the versatile nanoRISC family of embedded "supercomponents".
MSC Technologies
www.msc-technologies.eu