Ericsson has won the Best Power and Energy Conversion Product category of the Electrons d'Or 2014, one of Europe's most coveted electronics industry awards. The prize was awarded for Ericsson's BMR463-25A, the company's third-generation 25A digital point-of-load (POL) regulator that features Dynamic Loop Compensation (DLC).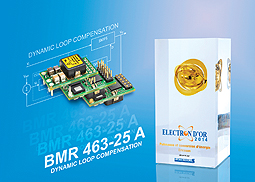 The Electrons d'Or celebrates the very best of innovation in electronics in categories including power, test and measurement, displays, memory processors, microcontrollers, and RF circuits, as well as the most innovative French start-up.
The trophies for the 17th edition of Electrons d'Or were presented at the awards ceremony held on June 18 at the FIEEC (Fédération des industries électriques, électroniques et de communication) in Paris.
Ericsson's BMR463-25A delivers a 25% increase in output current over the previous module yet comes in a fully compatible footprint. Part of the company's 3E* series of digitally controlled DC/DC converters, the module also embeds the latest DLC technology to improve stability and shorten time-to-market.
Patrick Le Fèvre, Marketing and Communication Director, Ericsson Power Modules, commented: "The development of the BMR463-25A results from very close cooperation with systems architects. Winning this prestigious award is yet more evidence that we have a world-class R&D team and employ successful business processes and strategy to deliver new products that deliver better flexibility, simplicity and control parameters to match specific applications."
The BMR463-25A runs the DLC algorithm as default each time the output is enabled. However, three more settings are also available via the PMBus for systems architects to fully monitor and dynamically control the energy delivered to strategic components while reducing costs.
Ericsson Power Modules
www.ericsson.com/powermodules