Distributor Rutronik presents the S110 SoftDevice v7.0, the next major release of Nordic Semiconductor's Bluetooth® low energy stack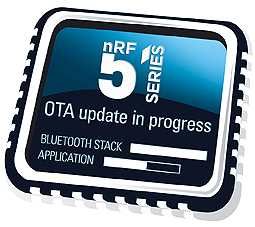 for the nRF51822 Bluetooth low energy (BLE) and 2.4GHz proprietary System-on-Chip (SoC) and the nRF51422 ANT™ and ANT/Bluetooth low energy multiprotocol SoCs. It enables simple, secure and reliable field updates of both stack and application and makes it easier to design ULP wireless products.
The S110 SoftDevice v7.0 offers a broad range of new features: The Over-The-Air Device Firmware Upgrade (OTA-DFU), together with the nRF51 Series SoC's flash-based architecture, support a flexibility to firmware upgrades that is not possible on alternative static ROM/OTP-based ULP wireless SoCs. Thus, the nRF51822 and nRF51422 SoC's stacks and application firmware can be upgraded quickly and easily using the devices' own wireless link. The OTA-DFU feature allows complete application and protocol stack upgrades and is not limited to partial updates and patching. Concurrent Peripheral/ Broadcaster roles is another feature of the latest S110 SoftDevice, that allows the nRF51 series SoC to broadcast data whilst in a connected state.
With the new support for concurrent multiprotocol Bluetooth low energy and 2.4GHz RF proprietary operation, Bluetooth low energy operates from the S110 SoftDevice itself while the 2.4GHz proprietary protocol runs from the application space.
Rutronik
www.rutronik.com/877a0fde.l