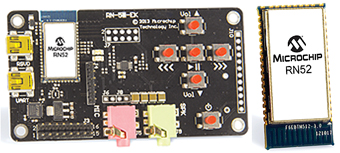 Microchip announces the expansion of its wireless product portfolio with a certified Bluetooth® Audio Module that supports audio for voice and music.
The RN52 module provides extremely low power consumption in a small, surface-mount form factor and includes standard Bluetooth audio and data profiles for all smart-phone platforms. These features makes it easy for designers to add high-quality wireless audio, combined with data capabilities, into a broad range of applications, such as wireless stereo speakers, headphones, automotive hands-free, medical devices and computer accessories.
The advantages of wireless technology, together with the rapidly expanding smartphone and tablet markets, are driving the demand for Bluetooth wireless audio accessories. Microchip's RN52 module, which is based on technology acquired from Roving Networks, has the Bluetooth stack on board. Integrating the stack on the module provides a simple-to-use and robust design model that works with any microprocessor or microcontroller, helping designers to get their accessories to market faster.
Key Facts:
• Simple to use on-board stack and profiles
• Expands wireless portfolio with support for streaming music and voice
• Exceedingly low power and compact surface-mount module
The RN52's embedded Bluetooth stack includes the popular SPP, A2DP, HFP/HSP and AVRCP profiles, as well as the iAP for use with iPhone® and iPod®. In addition, the RN52 supports a variety of audio codecs, such as SBC, aptX®, AAC and MP3.
To make designing RN52-based Bluetooth accessories even faster, Microchip is also intro­ducing the Blue­tooth Audio Evaluation Kit – part number RN-52-EK. This new kit is available today for $169.95.The RN52 Bluetooth Audio Module – part number RN-52-I/RM is available today in a compact, surface-mount form factor.
MICROCHIP TECHNOLOGY
www.microchip.com/get/B4WL