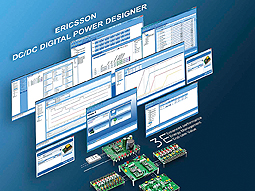 • First of its kind in the industry, Ericsson DC/DC Digital Power Designer software tool closes the gap between system architects and board-power designers, shrinking time-to-market with an unprecedented level of flexibility;
• New tool manages a wide range of configurations — from simple to highly complex setups and from a single unit to a complete system — in both online and offline modes;
• First software tool to integrate tools that support system development from concept and early evaluation to final board production, significantly reducing time-to-market and cost.
Ericsson has unveiled an advanced industry-first toolkit that provides board-power designers with highly advanced software to configure, implement and monitor power conversion devices – from a single unit to a complete system — including the Ericsson 3E* digital Point-Of-Load (POL) regulators, 3E Advanced Bus Converters (ABCs) and 3E Power Interface Modules (PIMs). Called the 'Ericsson DC/DC Digital Power Designer', the software is totally free of charge and can reduce time-to-market, total cost of ownership and energy consumption overall.
The software includes two essential parts – a design tool and a production tool. The Ericsson Power Designer design tool is based on a simple and intuitive interface and offers board-power designers a wide range of possibilities to configure standalone 3E POLs, 3E ABCs and 3E PIMs, or a combination of multiple products as integrated in the final application. The production SMBus-based tool makes it possible to upload configuration files into a set of modules during manufacturing: not only reducing inventory costs, but also increasing flexibility to upgrade configurations with the implementation of new power schemes.
"Since the introduction of the first digital power module in 2008, we have been working in close cooperation with our customers to develop hardware and software solutions that really unlock the amazing possibilities offered by digital power technology," said Patrick Le Fèvre, Marketing and Communication Director, Ericsson Power Modules.
Ericsson Power Modules
www.ericsson.com/powermodules