A new breed of 32-bit devices are targeting the healthy market share that traditionally 16-bit devices supported, bringing new possibilities for the Internet of Things and making smarter systems possible whilst being more energy efficient. Farnell element 14 Technical Marketing Manager Bee Thakore examines the latest industry developments.
To see what's influencing MCU manufacturers we should look at regional and application specific drivers. According to the latest iSuppli IHS study on the Chinese MCU Market, the top growth areas are Data Processing (growing at a CAGR of 12%) and MCU Application (CAGR of 7%) with the industrial and automotive electronics markets driving this growth as international and domestic automotive manufacturers expand production capacity in China. Develo­pers have seen a broader offering added to proprietary 32-bit cores with MCUs based on ARM Cortex processors, so they are no longer locked into only a few providers of proporietary architectures. A large and growing ecosystem has developed around ARM processor-based MCUs including third-party tools for compilers, real-time operating systems, software stacks, LCD graphics and more. Given the above demand drivers and driven by the success of the ARM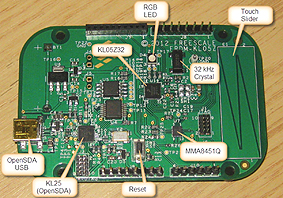 Cortex licensable core, the 32-bit segment is the fastest growing area of the MCU market. New families of MCUs based on the Cortex-M3 and –M0 cores are tempting engineers to migrate their 8-bit and 16-bit designs.
Powering the internet of things
ARM announced its 'Flycatcher' architecture in March 2012, suggesting that fridges and other white goods, medical equipment, energy meters and home and office lighting will all benefit from being able to connect to each other to form distributed smart systems. Flycatcher, whose official name is the Cortex-M0+, is specifically designed for devices which cannot be attached to an electricity supply and must run off batteries. The Cortex–M0+ architecture is designed to provide chip-makers with the means to build microcontrollers that require "ultra low power" but are capable of 32-bit processing.
The Cortex-M0+ core CPUs are as small as 1×1 sq mm and the MCUs should draw around a third less energy than their predecessors, which only offered 8 and 16-bit capabilities. Design has been created to be a low leakage part to offer long sleep or standby battery life – almost running into years rather than months. Devices incorporating such connectivity and long life performance could form an integral part of smarter energy systems, forming a 'design response' where they can come on or go into standby thus helping to smooth out peaks and troughs of electricity demand. Today, there is an estimated 12.5bn internet connected devices, an average of two per person, and many of these are phones or computers. In 2025, according to IT firm Cisco, there will be 1 trillion such devices. ARM expected microcontrollers will sell for around 13-20 pence per device – and it will charge its clients about a 1-2% royalty fee from that price on top of a licence charge.
Quick off the mark: The Kinetis-L range
NXP Semiconductors and Freescale have already licensed the Cortex-M0+ architecture. Freescale was the lead customer for the M0+, launching the Kinetis-L range. Geoff Lees, VP of Freescale's industrial and multimarket MCU business, said the M0+ core is 'strategically important'. "We're looking at giving our 8 and 16bit customers a worthwhile step into the 32bit market. And cost is a 'must have' to convince them to start evaluation."
The M0+ core is rated at 1.77CoreMark/MHz, with an energy efficiency of 42.14Core Mark/nA – both values significantly better than the nearest 8 and 16 bit competitors. In distributed smart systems, as there are so many interconnections, energy efficiency in one device repeated across many offers signi­ficant savings.
Enhancements to the Cortex-M0+ processors
The Kinetis-L family is manufactured using Freescale's low-leakage, 90 nm thin film storage (TFS) process technology and is offered with a broad selection of on-chip flash memory densities and extensive analogue, connectivity and HMI peripheral options including:
• 2-stage pipeline enabling faster branch instruction execution with fewer clock cycles and minimu power consumption
• 2× to 10× more performance than legacy 8- and 16-bit architectures
• World leading energy efficiency, maximizing battery life and enabling smaller, lighter applications
• Single-cycle I/O and peripheral access improving reaction time to external events
• Linear 4 GB address space removing complex paging schemes and simplifying software architecture
• A micro trace buffer provides a simple, low-cost debugging solution that allows faster bug identification and correction without the need for additional I/O resources
Furthermore, the Kinetis-L series benefits from a comprehensive enablement package standard for Kinetis devices, consisting of the Freescale CodeWarrior IDE, MQX RTOS and associated middleware, as well as support from the extensive ARM ecosystem.
Freescale Freedom development platform
The first of Freescale's ultra low power evaluation system for rapid prototyping and demonstrating the Cortex-M0+ capability was the Freedom KL25Z launched in July 2012 and has been flying the flag high for Cortex-M0+.
It combines an industry standard form factor with a rich set of third party expansion board options. An integrated USB debug interface offers an easy-to-use mass storage device mode flash programmer, a virtual serial port, classic programming and run control applications.
In late 2012, Freescale followed the Freedom KL25Z with a new cheaper Freedom KL05Z platform based on the Kinetis-KL0 MCUs.
The Kinetis KL0 family is the entry point into the Kinetis L Series MCUs based on the ARM® Cortex™-M0+ processor. Pin compatible with our 8-bit S08P family, the Kinetis KL0 family provides a bridge for 8-bit customers migrating into the Kinetis portfolio and is software and tool compatible with all other Kinetis L families. The FRDM-KL05Z is a useful alternative because of the different clock configurations for ultra-low power applications for engineers wanting to speed up development or build for applications such as small appliances, gaming accessories, portable medical systems, audio systems, smart meters, lighting and power control. The world of 32bit is opening up to all.
Developers can order both devices from Farnell element14 and can find tutorials and detailed technical resources on element14 alongside enablement software instantly.
Full product specifications are available at http://bit.ly/FRDM-KL05Z