In my previous blog I focused on the functionality of the new ARM® Cortex®-M7 core. I wrote of the higher processing throughput, new micro-architecture, cache for the memory interfaces and the advantages of ARM Cortex-M core compatibility. There is another dimension to meeting the challenge of today's IoT applications that I failed to mention. This is around meeting the challenges of size and space. As electronic devices become more assimilated into our lives, the deeply embedded designer has to consider the aspects of fit and form to be as important as function. This is becoming more apparent everyday as we see the stylishwearable designs that are hitting the marketplace just in time for the holidays.
Author: Donnie Garcia, Kinetis New Products Team, Freescale Semiconductor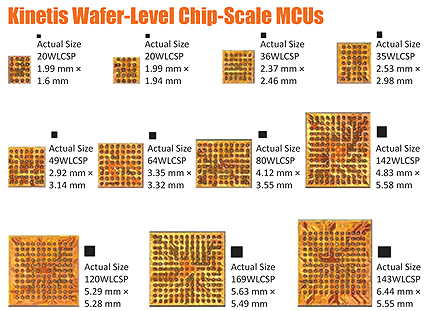 The new ARM Cortex-M7 core provides a great example of how semiconductor manufacturers and their partners are addressing the challenge of size constraints. It delivers an impressive 2.14DMIPS/MHz.
As I write this blog, there are no specifics about the size of this highest performance Cortex-M-class core on the ARM website, but if it is anything like the Cortex-M4core, it should be a game changer in delivering the performance/mm2 to meet the growing demands of consumers for their portable devices. As a point of reference, if you are like me and purchased your first computer in the 90s it may have been a processor that ran at 200MHz with < 2DMIPS/MHz. Future embedded solutions from Freescale that utilize the Cortex-M7 core will deliver similar processing capabilities in a fraction of the area that was needed. There is more than Moore's law at play here; thanks ARM! Besides the processing to support an immersive user experience on an easy to wear embedded device, there are other aspects of the Kinetis MCU portfolio, Freescale's microcontroller product line based on ARM Cortex-M cores, which address space constraints. The Kinetis mini MCUs have propagated chip-scale packaging across a wide range of solutions of varying memory size, I/O and processing capabilities. Chip-scale packaging allows area to be optimized because the size of the package closely matches the physical size of the microcontroller. This type of package allows megabits of non-volatile flash memory and plentiful communications peripherals to be accessible in a package size that is close to 5mm x 5mm. Kinetis minis solutions range in size from the world's smallest ARM powered solution at 1.6mm × 2.0mm to highly integrated solutions at 4.8mm × 5.6mm. Having a wide range of Kinetis minis products allow you, the embedded designer, with the opportunity to find the right functionality per millimeter squared for your applications. In addition to packaging, Kinetis MCUs deliver integration that when utilized allows board space to be optimized. One example is around the USB sub-system on Kinetis devices. As the USB standard requires 3.3V signals, Kinetis devices that integrate USB contain a 5V to 3.3V regulator in order to power the USB sub-system. This feature reduces the need of an external IC in some cases. In addition, on some of the latest Kinetis devices, an external crystal is no longer needed for the USB device mode. An internally generated clock can be utilized for meeting the clocking requirements of a USB device. Features such as these expand the size benefits of a Kinetis device to the supporting infrastructure that must be placed around the MCU. Another key aspect of many wearable devices is around sensing. Many sensors require digital interfaces, such as I2C, but in some cases, an analog interface is needed. Most Kinetis devices contain a very capable Analog to Digital Converter that may be used for interfacing to a wide range of sensing devices. It can provide >12bits of accuracy on a number large number of input pins. On some Kinetis devices there is more advanced integration of higher resolution (up to 24bit Sigma Delta) and opamps or PGAs for signal conditioning. Integrating this advanced capability reduces component count and creates lighter and easier to wear end devices.
The Kinetis MCU portfolio provides a wide range of tools to meet the challenges of limited space. Selecting which Kinetis MCU has the right integration for a specific wearable design greatly depends on the goals of the end application. As the wearables use case is diverse and evolving, it is hard to say exactly which features will be utilized the most. Is a Kinetis MCU the right fit for your next design? Try it on. Learn more and order samples at Freescale.com/Kinetis.
Donnie Garcia is on the Kinetis New Products Team
www.freescale.com