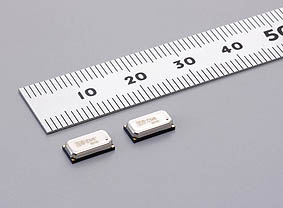 Murata announced that they have marked the shipment of over 30 million units of its ENC-03RC-10-R gyro sensor for radio-controlled helicopters. The ENC series of piezoelectric vibrating gyroscopes, initially designed for image stabilization in digital still and video cameras, have increasingly been in high demand to aid stable flight performance of indoor radio-controlled helicopters. The growth of the model helicopter application has rapidly driven gyro shipments over the past 3 years and now accounts for approximately 90% of global shipments.
Digital still and video camera image stabilization remains an important market for the ENC series, two gyro sensors being used to sense hand shaking movement across two axes. Working in conjunction with two actuators, a movable lens ensures a blur-free image. Other applications include motion detection and capture in game controllers and portable consumer gaming devices.
Able to detect angular velocity on one axis these fast response and compact devices, measuring just 4 x 8 x 2 mm, have an enhanced temperature drift characteristic of +/- 150 dps. Operating voltage is from + 2.7 – 5.25 V across the operating temperature range of -5 to + 75 degrees C. Power consumption, at +3 Vcc, is only 1.6mA.
The gyros utilize a piezoelectric bimorph vibrator to detect rotational forces according to the Coriolis effect.
Murata
www.murata.eu