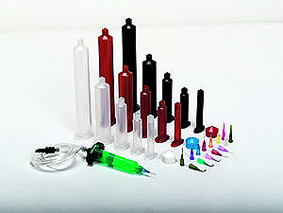 Techcon Systems, a leading Global manufacturer of fluid dispensing equipment and consumables, is to exhibit its 700 Series dispensing consumable range, together with dispensing tips and consumables on its distributor Globaco's Booth 300 in Hall 6 during SMT/Hybrid/Packaging 2011. This exhibition is scheduled to take place 3-5th May, 2011 in Nuremberg, Germany.
Techcon System's 700 Series dispensing syringe barrels are silicone and chloride-free and designed to work with industry standard equipment. The syringe barrels are made from low friction polypropylene to ensure accuracy, repeatability and productivity.
The 700 Series features a double Helix Luer lock for secure dispense tip attachment and is available in 3 colors: Natural for most generic applications, Amber provides protection of UV/visible light block (up to 520nm), but with the ability to see material inside the syringe barrel, and Black for total light block. Maximum operating pressure 100 psi is (6.9bar).
Techcon Systems will also highlight its range of dispensing valves from simple manual pinch tube designs to precision rotary auger valves. This comprehensive range ensures excellent accuracy over a range of material viscosities and shot sizes.
Techcon Systems will also feature the entry level TS250 digital dispenser on the stand and a static display of dispensing valves. The TS250 Series dispenses low, medium and high-viscosity fluids accurately and consistently. The TS250 Series is immediately usable anywhere in the world with its accompanying tools, accessories and universal power supply. The modern-style enclosure has a small footprint and conserves workspace through exterior design that allows multiple units to be stacked and fastened on top of each other. A highly responsive air pressure and vacuum management system, coupled with a digital timing circuit, provides consistent and repeatable fluid dispensing and material waste control. User friendly firmware provides quick and easy setup function. Available in two versions of operating pressure: 1 – 100psi (0.07 – 6.9bar) for general applications, and 0 – 15psi (0.07 – 1.0bar) for specific low viscosity applications.
Please feel free to speak with Domenico Carluccio and Steve Collier of Techcon Systems on distributor Globaco's stand, in Hall 6, Booth 300 to discover how to achieve Versatility Without Compromise for all of your consumable needs.
Techcon Systems
www.techconsystems.com