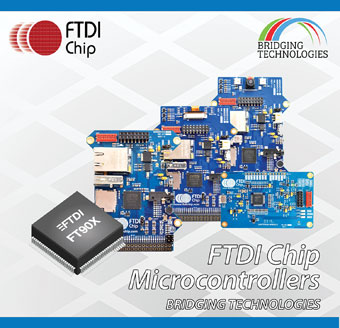 FTDI Chip has introduced a series of easy-to-utilize modules to facilitate the evaluation, development and subsequent implementation of its 32-bit FT90X Super-Bridge MCUs. This will mean that engineers in the embedded space are better positioned to benefit from the industry-leading performance levels and extensive connectivity that these highly advanced ICs are able to deliver.
Optimized for use in home security, industrial control, home/building automation systems, data logging and embedded multimedia applications, the MM900EVxA series of FT90X-centered modules is made up of 4 different units. The MM900EV2A and MM900EV3A incorporate 1.3M pixel camera modules, capable of capturing images from VGA (up to 30fps) to SXGA (up to 15fps) resolution in front-facing and rear-facing configurations respectively. Each module also has a built-in audio codec with microphone input pins, a 3.5mm stereo headphone jack, a stereo speaker output header, DC power socket, 2 RGB LEDs, reset switch and a real time clock with coin cell battery support. An RJ45 connector allows 10/100Mbps Ethernet data transfer and extra memory capacity can be made available via the Micro SD card socket. The standard USB-A port (which provides the USB hosting) is complemented by a Micro-B USB port (which serves as a USB device port and a power source connection). A 40-way expansion connector enables access to the IC's complete complement of IO, while a Micro-MaTch 2×5 female socket facilitates the debugging/downloading process. An additional 2 × 8-pin 2.54mm pitch connector and 16-pin 0.5mm pitch FFC/FPC connector permit interfacing with FT800/FT810 EVE display modules.
Presenting engineers with more streamlined versions of the MM900EVxA platform are the MM900EV1A and MM900EV-LITE. The MM900EV1A offers the exactly the same functionality as the MM900EV2A and MM900EV3A, excluding the camera unit and is aimed primarily bridging functions. The MM900EV-LITE is optimized for HMI and embedded display applications. It dispenses with the need for Ethernet connectivity, audio codec and the USB Host, but instead has a supplementary IO connector (so that these functions can be added on if required).
FTDI Chip
www.ftdichip.com