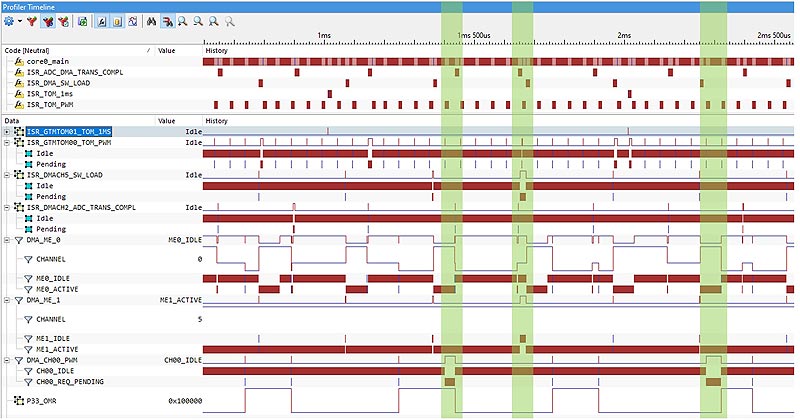 iSYSTEM introduces a series of free Profiler Packages for different AUTOSAR embedded real-time operating systems. Automotive software developers can utilize the packages – which consist of configuration examples, scripts and pre-recorded sample traces – to evaluate the timing analysis capabilities of the iSYSTEM winIDEA Analyzer and thus to explore ways to optimize their application codes.
For a start, iSYSTEM offers Profiler Packages for the AUTOSAR Operating Systems EB tresos AutoCore OS, ETAS RTA-OS, and Vector MICROSAR on different processor architectures, including Infineon AURIX™ TC399XE, NXP S32K148 and NXP S32G.
The Profiler Packages include several winIDEA workspaces with pre-recorded example traces to get an idea how to analyze OS trace recordings. With this, embedded developers can get a clear picture of what analysis use cases are possible and can be covered with the iSYSTEM winIDEA Analyzer.
The packages can also be customized to fit a customer-specific application. The Profiler Packages contain scripts to pre-configure the iSYSTEM winIDEA environment for AUTOSAR OS Profiling as well as source, ORTI, and configuration files, which are necessary to understand the steps for recording a trace.
For the Vector MICROSAR operating system, iSYSTEM offers two packages: The instrumentation package helps developers to record runnable information for the Vector MICROSAR OS on Infineon AURIX microcontrollers. The inspector package and the iSYSTEM BlueBox debugger allow users of Infineon's first- or second-generation AURIX microcontrollers (TC2xx or TC3xx) with emulation device to record profile OS task states without instrumentation.
The free iSYSTEM Profiler Packages and a free download of winIDEA are available at https://www.isystem.com/products/solutions/autosar/profiler-packages.html.
Further Links and Resources