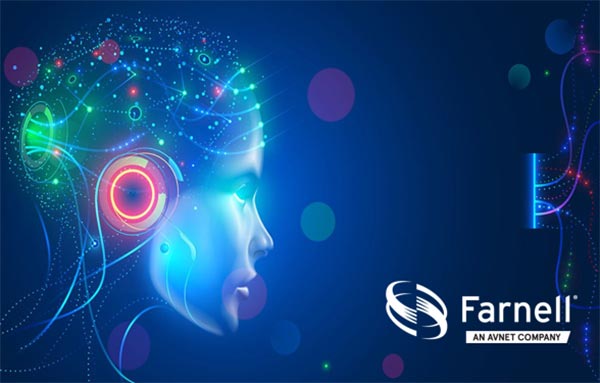 Farnell, an Avnet Company and global distributor of electronic components, products and solutions, is hosting a free educational series of webinars designed for engineers. The series consists of three webinars focusing on the latest Artificial Intelligence solutions for edge devices.
The first webinar will take place on Tuesday, 22nd February, 2022 at 10:00 a.m. (GMT) and will focus on Artificial Intelligence and Machine Learning based vision and voice technology at the edge. Romain Ricci, Regional Marketing Manager at NXP, will present an overview of the NXP's i.MX RT Cortex-M based product families and their target applications. In addition, engineers will learn about NXP's Edge Ready Solutions leveraging the i.MXRT crossover MCUs which enable developers to quick and easily add voice assistant, 2D and 3D capabilities.
The second webinar will take place on Thursday, 24th February, 2022 at 2:00 p.m. (GMT) and will focus on how Edge AI accelerators enable machine vision on a battery. Kristopher Ardis, Executive Director at Maxim Integrated (now part of Analog Devices), will cover a variety of AI topics and present an overview of the MAX78000 Edge AI Accelerator, using the MAX78000 to develop Edge AI application, and exploring Edge AI use cases.
The third webinar will take place on Friday, 25th February, 2022 at 10:00 a.m. (GMT) and will focus on Monitoring environmental data with Arduino IoT Cloud. Andrea Richetta, Head of Customer Success Team at Arduino, will present an overview of the Arduino Pro ecosystem, discuss centralising sensor data from different sources to a hosting platform, and connecting data in the Arduino IoT Cloud and create a customised dashboard.
Farnell provides access to an extensive range of development tools and solutions for IoT and works with innovative suppliers to bring the latest for AI and security. Customers can find support and design resources including the IoT Hub, AI pages and an AI configurator on the Farnell website. In addition, customers have free access to online resources, datasheets, applications notes, videos and webinars with technical support available 24/5 in local language.
To participate, please register here and visit farnell.com for more information.