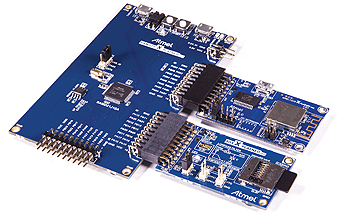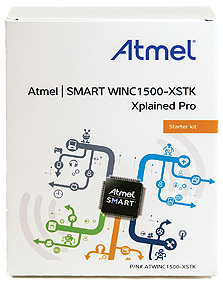 Now new from ATMEL – Wifi and BLE modules as well. These are already certified modules with the focus on low power IoT applications. This makes it possible for almost any design to be integrated quite easily into the IoT network, and to do it the developer does not need any know-how with regard to Wifi, RF, or the Internet. The module works entirely independently and is easily addressed via a serial interface. Target applications are in the wide field of battery-powered devices, industrial applications, and medical situations.
The modules from ATMEL have been optimized for battery applications, operating with an input voltage of 1.8V to 3.6V, and requiring only 4µA in stand-by mode. This means that IoT nodes provided with ATMEL modules and powered by batteries can send data to an SSI server for a very long time.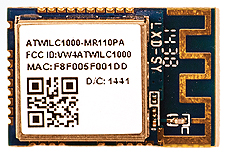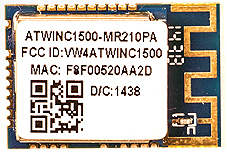 If you already have a high-performing controller in your application with an Internet-capable operating system, then you also have the possibility of using what is known as a link controller. This form is available from ATMEL as well. A link module consists essentially of the entire RF functional performance capacity in the form of one module. In this situation, however, the individual network protocol and the application need to be processed in the main processor of the application in hand.
The Wifi link module has been given the designation ATWILC1000. This involves an IEEE 802.11 b/g/n IOT link controller, which is addressed via an SDIO interface. The ATWILC3000 is a combined Wifi IEEE 802.11 b/g/n and Bluetooth 4.0 IOT link module, addressed via the UART or SDIO interface. Most customers, however, are interested in a more complete solution with which the entire protocol processing is carried out in the module. In this situation, on the one hand ATMEL can offer the ATWINC1500 module, an IEEE 802.11 b/g/n IOT network controller which is addressed via UART or SPI. On the other, there is also the ATWINC3400 module, which offers IEEE 802.11 b/g/n and BT 4.0 IOT. As the interface, use can also be made here of UART, SPI, I2C or SDIO. All the modules and starter kits are available from CODICO for easy evaluation.
Contact us if you have any further questions, or just ask for additional documentation.
Johannes Kornfehl
johannes.kornfehl@codico.com
+43 1 86305 149
Codico
www.codico.com