Microchip announces a new addition to its Human Interface Solutions portfolio with the MTCH6303, an innovative, turnkey projected-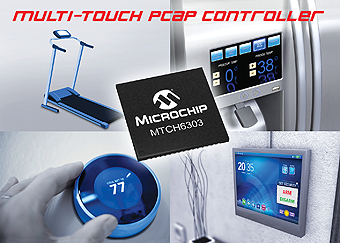 capacitive touch controller for touch pads and screens. Touch sensors with up to 1000 nodes and diagonals of up to 10" are supported. The MTCH6303 provides multi-touch coordinates as well as a ready-made multi-finger surface gesture suite that brings modern user interface (UI) elements, such as pinch and zoom, multi-finger scrolling, and swipes, to any embedded design, with minimal host requirements.
The MTCH6303's advanced signal processing provides noise-avoidance techniques and predictive tracking for 10 fingers, at scan rates of up to 250 Hz with a minimum of 100 Hz each for five touches. It also combines with Microchip's MTCH652 high-voltage line driver to achieve a superior signal-to-noise ratio (SNR) for outstanding touch performance in noisy environments.
When combined with the MGC3130, the MTCH6303 solution is capable of supporting 3D air gestures up to 20 cm distance from the touch panel. Microchip's MGC3130 E-field-based 3D tracking and gesture controller includes Microchip's patented GestIC® technology, allowing user input via natural hand and finger movements in free space. This unique combination empowers designers to create interface-control possibilities in two and three dimensions that differentiate their products from the competition.
The advanced capabilities of the MTCH6303 create robust, ready-to-go touch and gesture solutions for the rapid growth of human-interface applications and requirements in: industrial equipment such as machine control panels, HVAC controls, metering and test equipment; in home-automation products including security control panels, thermostat and lighting controls; and in office equipment such as printers, copiers and fax machines; among other applications.
The MTCH6303 is supported by Microchip's new Multi-Touch Projected Capacitive Touch Screen Development Kit (DV102013) which is priced at $149.00 and available to order today with free, downloadable software. The DV102013 incorporates the MTCH6303 projected-capacitive touch controller and the MTCH652 high-voltage driver on a controller board, and includes a transparent, 8" ITO touch panel for easy demonstration of the MTCH6303's touch-controller capabilities and supporting graphical user interface (GUI) functionality.
Microchip Technology
www.microchip.com/MTCH6303-062915a