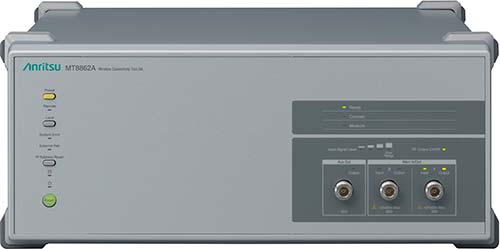 With the launch of devices based on the new Wi-Fi 7 communications standard, there is already a growing demand for test instrumentation that can evaluate them.
To meet this need, Anritsu Corporation introduces a new Network Mode*1 option for its MT8862A Wireless Connectivity Test Set, allowing the instrument to evaluate the Wi-Fi 7 signal quality of devices under test.
Developed by the Institute of Electrical and Electronics Engineers, the IEEE802.11be (Wi-Fi 7) wireless communication standard is the successor to the IEEE802.11ax*2 (Wi-Fi 6/6E) WLAN standard. The new standard is designed to achieve a transmission speed of 30 Gbps or more, much faster than Wi-Fi 6/6E. In addition to extending conventional technologies, including 4096 QAM, 320 MHz channel bandwidth, and Multi-RU, Wi-Fi 7 also adopts new technologies such as Multi-Link Operation*3 (MLO), enabling a device to simultaneously send and receive data across different frequency bands and channels.
With the new Network Mode option, Anritsu is playing a major role in improving the signal quality of Wi-Fi 7 devices and contributing to the growth and success of this important new communications protocol.
Development Background
The development of the Wi-Fi 7 standard is scheduled for completion in 2024 and is expected to be used for devices that support the latest applications and services, such as ultra-high-definition video streaming and AR/VR. Devices using chips based on the draft standard of Wi-Fi 7 have already appeared and there is rapidly increasing demand for test instruments to evaluate these devices.
Product Summary and Features
Wi-Fi 7 RF Evaluation Capability with Network Mode
Because the signal quality of WLAN varies with the data rate, it is very important to evaluate the signal at each of the proposed rates. The MT8862A allows the user to specify the data rate for the test, enabling RF evaluation to be conducted at all the data rates used by the major WLAN standards, including Wi-Fi 7.
Flexible Test Environment
Provides a test environment for evaluating RF TRX characteristics (TX power, modulation accuracy, RX sensitivity, etc.) of WLAN devices, including Wi-Fi 7.
Click to learn more about MT8862A.
Technical Terms
*1 Network Mode
The Network Mode emulates real-world operation to evaluate RF characteristics. It uses the data link layer communication protocol implemented in both the chip and the tester to establish communication. In addition to evaluating RF characteristics using conducted tests, the Network Mode is especially useful for Over-The-Air (OTA) wireless performance testing – including antenna characteristics – of finished products.
*2 IEEE802.11ax
Wireless LAN standard defined by IEEE supporting theoretical maximum speeds up to 9.61 Gbps.
*3 Multi-link Operation (MLO)
Technology enabling one device to simultaneously send and receive data across different frequency bands and channels.