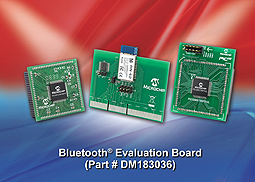 EP&Dee is offering you the chance to win a Microchip Bluetooth® Evaluation Kit (DM183036). The kit provides an easy, cost-effective and flexible add-on for embedded evaluation and development using many 16/32-bit PIC® microcontrollers or dsPIC® digital signal controllers (DSCs), using existing Microchip development tools.
The kit includes the Microchip Bluetooth PICtail™ Plus daughter-board with the 16-bit USB PIC24FJ256GB110 and 32-bit CAN/USB PIC32MX795F512L microcontroller plug-in modules, both of which are pre-programmed with CandleDragon's dotstack Bluetooth demonstration stack and SPP profile. This kit is designed for use with Microchip's existing Explorer 16 Development Board (DM240001), which is available separately, at $129.99.
Current Bluetooth wireless modules are costly and inflexible because they force developers to use a predetermined baseband radio and microcontroller.
The new Microchip and CandleDragon Bluetooth solution enables designers to pair a wide range of radio ICs for Bluetooth connectivity with many of Microchip's 16/32-bit PIC microcontrollers or dsPIC DSCs. Additionally, CandleDragon's dotstack is Bluetooth SIG compliant and supports multiple profiles in a single microcontroller, including SPP, HFP and HID, with more profiles planned for Microchip MCUs in the near future.
For your chance to win a Microchip Bluetooth® Evaluation Kit, please visit:
http://www.microchip-comps.com/epdee-bluetooth
and enter your details in the entry form.