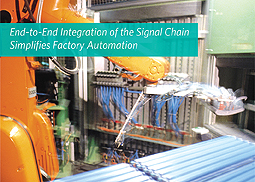 Maxim Integrated's subsystem reference designs accelerate and simplify factory automation with end-to-end integration of the signal chain.
Never before have engineers been able to get their industrial designs to market so fast. Three new low-power reference designs from Maxim Integrated Products, Inc. provide end-to-end integration of the signal chain, simplifying factory automation.
The Carmel, Monterey, and Fremont industrial reference designs are fully tested subsystems, complete with schematics, layout files and firmware, and are available for immediate use and customization. Each reference design integrates multiple functions to provide a highly accurate solution for an automated factory task. Available for purchase, each board ensures rapid prototyping, early software development, and speed of design.
The Carmel (MAXREFDES18#) subsystem provides a high-accuracy, low-noise analog output. Carmel is ideal for programmable logic controllers (PLCs) and distributed control systems (DCS).
The Monterey (MAXREFDES15#) subsystem is a high-accuracy, industrial loop-powered sensor transmitter that converts a standard temperature sensor input (RTD PT1000) to a 4–20mA signal that is immune to noise and is constant over long distances. It is ideal for distributed industrial sensor systems.
The Fremont (MAXREFDES6#) subsystem is a low-power analog front-end (AFE) that accepts inputs of 0mV to 100mV. It is ideal for low-voltage output sensors, and process control and medical applications.
Maxim Integrated
www.maximintegrated.com