TTI, Inc., the world's leading specialist distributor of passive, connector, electromechanical and discrete components, now stocks a new diode from Vishay.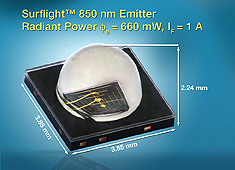 Part of the SurfLight™ portfolio from Vishay, the VSMY 98545 series is an infrared, 850nm emitting diode based on surface emitter technology with high radiant power and intensity, as well as high speed and high reliability. It comes molded in a low thermal resistance SMD package with lens. A 42 mil chip provides outstanding low forward voltage and allows DC operation of the device up to 1A and up to 5A pulses.
Further technical details of the VSMY98545 series diode include an angle of half intensity of φ = ± 45°, low thermal resistance of Rthjp = 10K/W, a floor life of 168 h, MSL 3, according to J-STD-020. The components also benefit from lead (Pb)-free reflow soldering. Main target applications are infrared illumination for CMOS cameras (CCTV), illumination for cameras (3D gaming), machine vision and 3D-TV.
TTI, Inc.
www.ttieurope.com