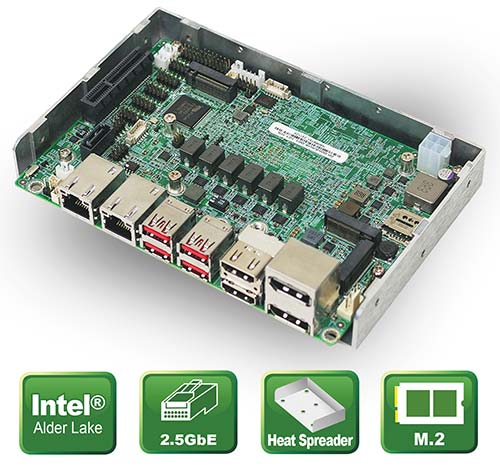 With the Wafer-ADL-P ICP Germany complements its portfolio in the area of embedded boards.
The 3.5″ mainboard is equipped with a cooling shell to simplify the heat dissipation of the installed components. The Wafer-ADL-P is available with powerful Intel Alder Lake CoreTM i7/i5/i3 and Celeron® processors. The i3-1215U is equipped with 6 cores, the i5-1235U and i7-1255U are equipped with 10 cores. The Celeron® 7305 has 5 cores and a base frequency of 1.10 GHz. I3-1215U and i5-1235U have a base frequency of 0.9 GHz, and i7-1255U has a base frequency of 1.20 GHz.
There are 8GB of DDR4 working memory pre-installed. Optionally, 16GB are also possible. For graphics output, there are two HDMI and two display ports each. For network connectivity and applications with high data throughput, two Intel® I225V 2.5GbE network controllers are installed on the board. The Wafer-ADL-P is expandable via an M.2 M key, an M.2 B key, an M.2 A key slot, a SATA 6Gb/s interface, and a PCIe x4 slot. Thus, Bluetooth, WiFi, 5G modules, riser cards, NVME storage and other add-ons can be installed.
In addition, the Wafer ADL-P offers four USB 3.2 ports. Internally, four USB 2.0 and four COM interfaces are installed.
With a voltage input of 12V, the Wafer-ADL-P can be used in environments from 0°C ~ 60°C. On request, ICP supplies the board with suitable industrial main memory and solid state memory.
3.5″ embedded board with Alder Lake processor
Specifications
3.5″ board with Intel® Core™ i7/i5/i3 or Celeron® 7305 CPU
8GB LPDDR4 memory (optional 16GB)
Four independent display outputs: two HDMI, two display ports
Two 2.5 GbE Intel® I225V controllers
Four USB 3.2, four internal USB 2.0, four internal COM ports
SATA 6Gb/s interface
Extensions: one M.2 M key, one M.2 B key, one M.2 A key, one PCIe x4 slot
Applications
IoT
Machine builder
Machine builder
Display systems
Ultra flat embedded systems
Point of sale applications