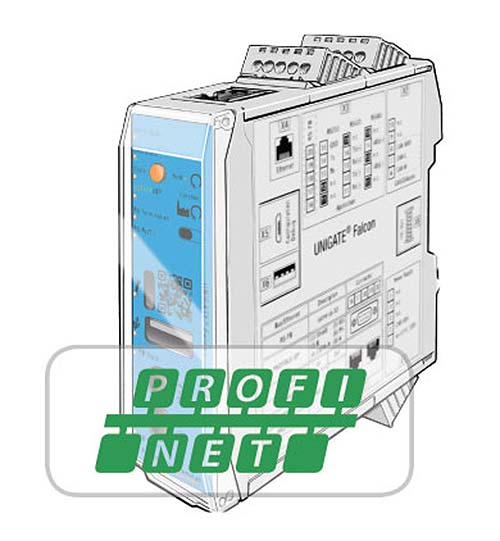 Deutschmann Automation, the specialist for industrial data communication, presents the new UNIGATE FALCON – PROFINET at the SPS 2023, Nuremberg, in hall 5, stand 328. In addition to the PROFINET device interface, the compact DIN rail module has serial interfaces (RS232/RS422/RS485) as well as an additional standard Ethernet port and an optional CAN interface. This way, a wide variety of automation components can be quickly and easily connected to a PROFINET network. The PROFINET device interface has an integrated 2-port switch. MRP (Media Redundancy Protocol) and S2 system redundancy are also supported. In addition, up to 1024 bytes of input and output data can be transmitted via this interface.
By using the ready-to-run communication modules, the design times and the time-to-market of an end product can be significantly optimized. The UNIGATE FALCON product range is modularly designed with the aim of realizing the best possible solution for the respective application in a cost-optimized way.
The new UNIGATE FALCON – PROFINET is characterized by an extremely compact design and, with dimensions of 25.0 x 95.0 x 95.0mm (W x H x D), is a good 30 percent smaller than the predecessor model. The size of the new DIN rail modules is identical in all bus versions.
UNIGATE FALCON is based on the ARM Cortex-M processor technology, which offers a significantly higher performance. The transmission rates of the serial interfaces are 6 MBaud and are thus about ten times faster in RS485/422 operation.
The configuration of the UNIGATE FALCON modules is done comfortably via web interface over the Ethernet interface.
Free programming is possible with the Protocol Developer IDE and the easy-to-learn Deutschmann Script language developed by Deutschmann Automation. It allows the emulation of proprietary protocols as well as the implementation of standard protocols. Simple scripts can be processed in a few microseconds. Script debugging is done via USB interface, so no additional debugging hardware is required.
A new service menu, which can be accessed via a button, also enables uncomplicated support in case of service.
Visit Deutschmann Automation at the SPS in Nuremberg in hall 5, stand 328.