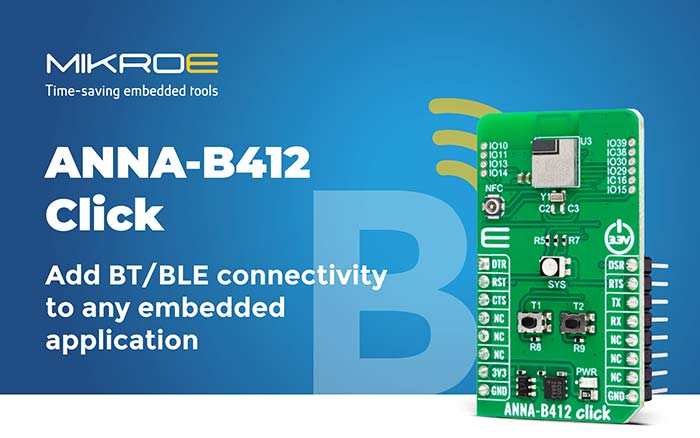 MikroElektronika (MIKROE), the embedded solutions company that dramatically cuts development time by providing innovative hardware and software products based on proven standards, has introduced ANNA-B412 Click, a compact add-on board that provides BT/BLE connectivity for any embedded application. It features the u-blox ANNA-B412, a standalone Bluetooth 5.1 low-energy module. This System-in-Package (SiP) design with pre-flashed u-connectXpress software supports Bluetooth LE Serial port service, GATT client and server, Bluetooth beacons, Bluetooth long-range, NFC, and simultaneous peripheral and central roles. In LE mode, the Bluetooth module can achieve up to 2Mbps data rates. To optimize power consumption, the module supports Active, Standby, and Sleep modes.
Comments Nebojsa Matic, CEO of MIKROE: "This Click™ board is perfect for the development of industrial automation, smart building applications, low-power sensors, wireless-connected and configurable equipment, and more. One of the main features of this module is the Angle of Arrival (AoA) and Angle of Departure (AoD) with the support of a Bluetooth 5.1 Direction Finding service. These features can be used for indoor positioning, wayfinding, asset tracking, and more."
The ANNA-B412 module is powered by the nRF52833 from Nordic Semiconductor, which includes an integrated 2.4GHz transceiver with +8dBm output power and powerful Arm Cortex-M4 with FPU processor. In addition, it is equipped with 512kB of flash memory and 128kB of RAM. For a Bluetooth connection in a 2.4GHz frequency band, ANNA-B412 Click is equipped with a printed PCB antenna that supports 40 channels. The Bluetooth antenna has +9dBm of maximum radiated output power. For NFC, ANNA-B412 Click is equipped with a u.Fl connector, and can operate as a 13.56MHz NFC tag at a bit rate of 106Kbps.
Two buttons (T1 and T2) can be used to control the system, providing functionality including: restoration of factory settings; Bluetooth LE connection to a peripheral device; and entering or exiting  bootloader mode. The onboard RGB LED notifies the system status signals, which can be idle in Data mode/Extended data mode, idle in Command mode, connecting, and connected. In addition, ANNA-B412 Click is equipped with ten u-connectXpress IO pins, separated into two headers, which can be used for user configurable purposes.
ANNA B412 Click uses a 4-Wire UART interface to communicate with the host MCU with a commonly used UART RX/TX and UART RTS/ CTS as UART control flow pins. In addition, the UART DTR data terminal ready and the UART DSR data set ready are also available. The default baud rate is 115200bps. The RST pin can be used to reset the module with active LOW. Besides the library we provide, you can use a set of AT commands to control the ANNA B-412 module over the UART interface. ANNA-B412 Click is supported by a mikroSDK compliant library, which includes functions that simplify software development. This Click board™ comes as a fully tested product, ready to be used on a system equipped with the mikroBUS™ socket.
Click boards follow mikroBUS™ a modular prototyping add-on board standard invented by MIKROE, enabling design engineers to change peripherals easily, cutting months off development time. Any Click board can be connected to the microcontroller or microprocessor on a main board. Many leading microcontroller companies including Microchip, NXP, Infineon, Dialog, STM, Analog Devices, Renesas and Toshiba now include the mikroBUS socket on their development boards.