Toshiba Electronics Europe (TEE) has announced a new system power management IC (PMIC) designed to help optimise power management functions for a wide range of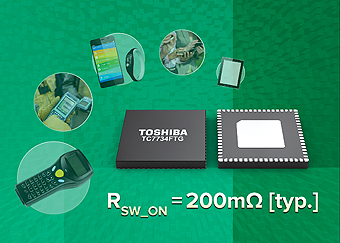 mobile products, such as smartphones, tablets, handheld medical devices, industrial PDAs, barcode readers and portable instruments. The TC7734FTG PMIC adopts a 130-nanometer analogue semiconductor process with very low on-resistance (power path FET's on-resistance typically 220mΩ) and low gate charge characteristics, and integrates various power management blocks within a single device.
Rising demand for mobile products is driving concurrent growth in the market for PMICs, as manufacturers continually seek to reduce their products' power consumption. According to Transparency Market Research, the current compound annual growth rate (CAGR) for the global PMIC market (2013-2019) is currently 6.15 per cent.
To overcome the conflicting challenges faced when designing battery-powered products compact, efficient and highly reliable power management solutions, such as the TC7734FTG, are needed in a short time-to-market window.
TC7734FTG integrates power path, switching charger, four buck converters, three low-dropout (LDO) regulators and two LED backlight drivers. The charger block detects various USB™ port conditions and restricts the input current to 100mA, 500mA, 1000mA or 1500mA. All charger functions operate automatically without the need for any external control signals and it automatically changes the system power source between the battery and USB connection as needed.
The IC also features an external thermistor that detects the battery's temperature, helping to prevent overheating while the mobile device is charging. Various thresholds and settings of the charger functions can be programmed by the on-board I2C interface. Individual settings of various output voltage levels, power sequences and many other functions can be programmed via I2C. In addition, user-programmable eFuse register settings enable the device to meet the needs of a wide variety of platforms.
Housed in a compact 9mm × 9mm QFN64 package, the TC7734FTG supports input voltage ranging from 3.4V to 5.5V. The IC integrates various error detect functions, including thermal detect, over current limitation and LED open/short detection.
Toshiba Electronics Europe
http://toshiba.semicon-storage.com/eu